(81% off) Age of Ultron (Vision or Hawkeye) Costumes from only $6.96 @ Amazon.ca! (EXPIRED)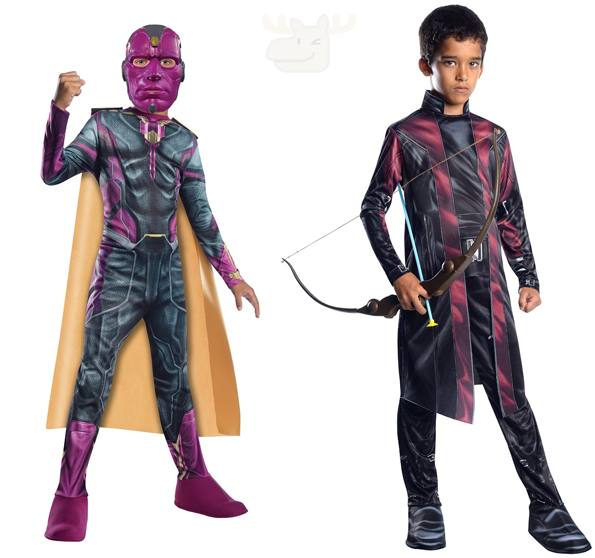 This morning, I hit up the Amazon.ca costume pages, and sorted by price low-to-high. In this fashion, I scroll through the deal and see if anything really jumps out at me. I am always on the watch for cheap items for my kid's dressing up box – and I've found a few costumes which could be just the ticket, if you do the same. There are two items which are fantastic bargains – one is a Hawkeye costume and one is a Vision costume, two characters from the recent Avengers Age of Ultron movie. Each was $35.99, but can be had for only $6.96 just now!
For the $6.96 price point, you have the following sizing availability:
Vision – Medium (fits most children 50" to 54" tall, 27" to 30" waist and 29" to 32" hips/waist)
Hawkeye – Large (fits most children 56" to 60" tall, 31" to 34" waist and 35" to 39" chest/hips)
For the small Vision costume, the price is only $7.39. For the large Vision costume, the price jumps to $9.20 (which is still really reasonable).
On Amazon, we see extremely discounted prices like this, and they never last for very long. For those of you who are interested, buy now.
As for shipping, if you've got Amazon Prime, then shipping is FREE on these orders. If you don't have Amazon Prime, then you'll pay a little extra for shipping – or just top your order up to $25 or more, for free super saver shipping to your home.
P.S. A similar Hawkeye costume is $35+shipping @ Partycity and $52 @ Thecostumeshoppe. A similar Vision costume is $55 @ Thecostumeshoppe and $46 @ Ripsters.
(Expires: Unknown)