78% Off Under The Bed Paper Rope Basket - Now $12 @ Amazon.ca (EXPIRED)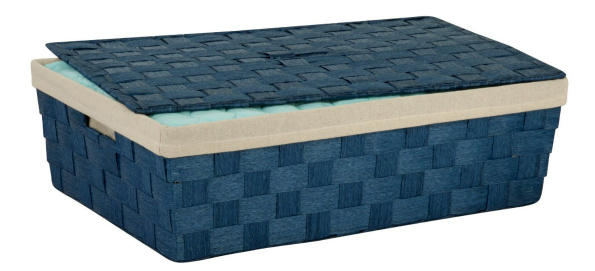 We all need storage solutions to tidy up the place and put away all those extra pieces of clothing, toys, and more we acquired over the holidays. I found this Honey-Can-Do Under The Bed Paper Rope Basket with Handle and Lid (blue) on sale from $55.99 down to $12.40. As all the other coloured baskets are $44+, I knew this was a hot deal!

This is a fairly sizeable basket: it measures 23.5" by 15.45" and is 6.5" deep. It comes with a lid and handles so you can easily drag it out from under your bed. The space under the bed is often neglected, but it really makes a great storage place for summer clothes during winter, winter clothes during summer, extra blankets, and more. Anything that can fit into a 6.5" deep space can fit under your bed in this paper rope basket.

This is a woven paper style basket on a 3.8mm powder coated wire frame. The wire frame makes sure the basket is sturdy and durable. The basket also has a natural cotton liner in the inside so your clothing, shoes, blankets, and such never touch the wire or the weaving. The side handles make it easy to drag out from under the bed and easy to transport as well. The lid is wonderful: it will keep dust, dirt, and the cat out of your clean items.

I am not sure how long this deal will last, so I thought I would throw in a few extra deals I found as well. This Honey-Can-Do PEVA Clear and White Short Garment Closet Zippered Front was $17.10 and is now $5.42. It will fit quite a few garments and can hang on a regular closet rod. I like this bag for keeping formal wear in good condition.

The Honey-Can-Do 10-Shelf Non-Woven Hanging Shoe and Accessory Organizer, Ocean Blue is on sale from $14.39 down to $7.04. The cheapest 'other colour' is over $11 so this is a nice deal. I have used these hanging shelves so often for storing purses, shoes, and more.

The Honey-Can-Do SFT-01259 Storage Bag with Zipper, 2-Pack, Natural-inches is on sale from $13.19 down to $6.93. You could even seal up your clothing in these storage bags and then place them in the basket under your bed for storage.

These are just a few off the cool storage solutions on sale at Amazon Canada right now. Receive free shipping on $25 or more.
(Expiry: Unknown)