75% Off RT Designers 16 Piece Bathroom Set From $6.50 @ Amazon Canada (EXPIRED)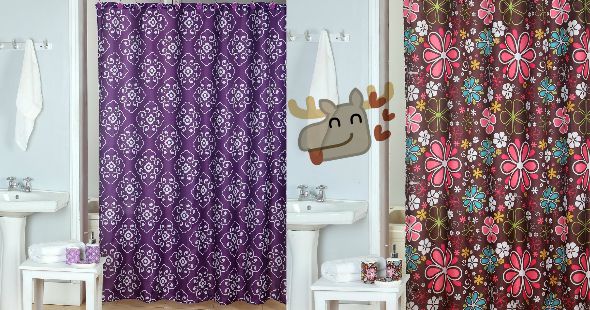 I think Amazon Canada is a mind reader. Just yesterday I was thinking about redecorating my bathroom, and now this deal pops up on Amazon.ca. If you are looking to add some character to your bathroom decor, then check out this RT Designers 16 Piece Bathroom Set which is on for 75% off. There are two different options available for as low as $6.42 when they were regularly $27.99. Spend $25 to get free shipping too.
This RT Designers 16 Piece Bathroom Set is a steal if you ask me! Where else can you get this many pieces for your bathroom for under 8 bucks? There are two different colour options available. Bohemian is on sale for $6.42 and Orchid is on sale for $7.43. Unfortunately the Brown Zebra theme happens to be my favourite, and regular price too.
So what is included in this 16 piece bathroom set? RT Designers has listed the items that come with this purchase, and they include:
lotion dispenser
soap dish
fabric printed shower curtain
12 resign curtain hooks
toothbrush holder
I see what you did there, Amazon! 12 out of these 16 pieces are shower curtain hooks. Nonetheless, this is still a great price. Keep in mind that the shower curtain measures 72 inches by 72 inches, which unfortunately is not quite wide enough for my monster shower. It is also made of fabric so you will want a second shower curtain made of plastic to have on the inside of it, so water doesn't get through.
I did have a lotion dispenser on my sink-side too, but everyone kept thinking it was soft soap and then complaining when their hands got greasy lotion instead of sudsy soap. I think when I receive my 16 piece bathroom set I will put soft soap inside the lotion dispenser instead. I find soft soap is easier for my toddler anyway. He has a hard time holding the bar soap while trying to wash his hands and I can't even tell you the number of times that the bar of soap has shot across the room because he tries to grip it too hard with his little hands.
Amazon.ca ships all orders over $25 for free, so your best bet might be to snag a few of these offers for you and a friend or even add something else to your shopping cart that you need. Maybe you can find a matching bath mat or perhaps you can even get that plastic shower curtain liner I mentioned above.
(Expiry: Unknown)