75% Off Crayola Crayon Carver - Now $10 & Free Shipping @ Chapters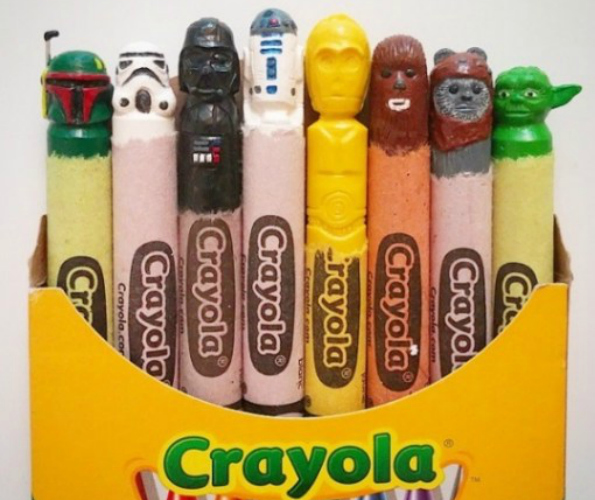 *BUMP: Now with free shipping from Chapters*
I LOVE hot toy deals and this is a great little deal to add your your child's Crayola collection. The Crayola Crayon Carver is currently on sale from $39.99 down to only $10 at both Chapters Indigo and Amazon Canada. However, you want to buy this toy from Chapters Indigo as they are currently offering free shipping.

This same toy is $39.96 @ Walmart. $29.99 @ Toys R Us, and $39.99 @ Sears Canada. Given that the price at Chapters and Amazon is nearly $20 less than anywhere else, I just had to post! First of all - super cool toy for a really low price! Your child gets to turn their crayons into works of art by carving designs and words right onto the crayons.
I have seen some pretty awesome crayon art lately: crayons make a perfect medium for carving out super cool designs. While your kids will probably not be at the level of the artist above (aren't those so cool???), they can carve simple words and designs using the snap down tiles and stylus.
Your child can create and display their own work of art or create gifts for friends and family. The carved crayons would also make super cool party favours as well. I was thinking that you could carve buy a pack of crayons and carve your name on them or carve the name of a friend and give them as a gift. It would be really nice to receive monogrammed pencil crayons as a birthday gift. It might also help the kid keep track of them at school.
Overall, this is a really cool toy. Start your kid on the road to true crayon art - like the awesome Star Wars art above. No, you cannot do that with this kit but the kit does teach the basic crayon carving skills that can be applied to such art in the future!
With free shipping at Chapters Indigo, now is a great time to pick up this popular Crayola toy.
(Expiry: Unknown)