(68% Off) Shark Round House Pet Bed Just $19 & Free Shipping @ Amazon.ca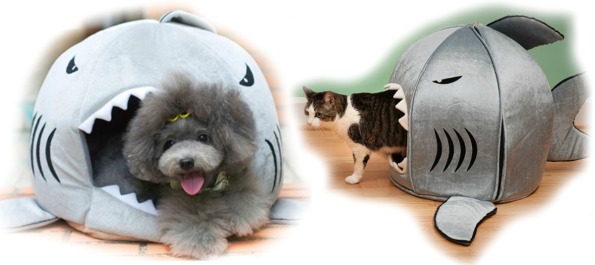 *Bump! This adorable pet bed is ba-ack!!*
This has got to be the most adorable pet bed I have ever seen. Get your hands on this ColorfulHouse Shark Round House Bed for 68% off right now, which leaves you paying just $18.18. Shipping is even included!
My cats are always curling up in the oddest places to sleep. I bet they would love having a power nap in this ColorfulHouse Shark Round House Bed - plus it looks totally cute and would have all my guests talking. Maybe my kitties can hide away from my stomping toddler in something like this? I can't wait to find out!
You won't find many pet beds of any sort for a price this reasonable, never mind a totally adorable one. The Shark Pet Bed is most suitable for cats and tiny dogs or puppies. The lovable shark design is going to look absolutely perfect just about anywhere in your house, and even your kids will love the fun design. Don't be surprised if you find your toddler playing with it or pretending to have their head eaten.
Here's a relief too: this pet bed is totally machine washable! To dry, just set it on top of the washing machine and let it air out. If your cats don't take to it right away, try adding a little catnip spray or crushed catnip inside. That should do the trick. Some reviews even say that people have bought these beds for their rabbits, but I would be worried about them chewing on it. Overall, the reviews look spectacular and the price is beyond reasonable. Another steal of a deal for you, Moosers! Now I just need to find one that is big enough for me to sleep in personally.
This item is shipped and sold by a third party seller called Spark-Ca. Luckily, you will even receive totally free shipping on this purchase. In the seller information area, it states that your order will be shipped within two days of making your purchase.
Moosers, would your pet sleep in something like this?
(Expiry: Unknown)