68% Off Dry Case Waterproof Backpack (Magenta) For Just $33 + Free Shipping @ Amazon.ca (EXPIRED)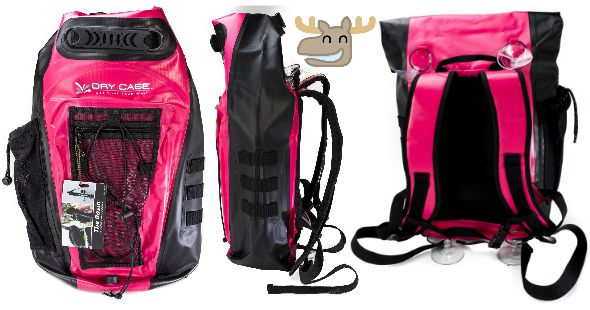 If you are outdoors a lot, then you definitely have a favourite backpack for carrying your necessities, right? What happens if it rains? I think you are in need of this Dry Case Internal Frame Backpack from Amazon Canada, especially because it is on sale for 68% off the regular price. Why pay $101.05 when you can pay just $32.60 and get free shipping too!
This Dry Case Backpack is definitely a popular option for those who canoe, kayak, hike and more. It will keep your gear clean and dry even if you get wet, which is awesome. This Dry Case backpack compares at over $90 at other retailers, which makes the low price of $32.60 quite a steal if you ask me. I think even if you have a motorcycle this backpack can come in handy and keep your gear dry if it rains while you are riding. Here is a look at that this backpack is priced at if you shop at other Canadian retailers:
$99.99 @ DryCase.com
$98.99 @ Sears.ca
$89.99 @ Shop.ca
This particular Dry Case backpack is the model with 20 liters of storage. It is constructed with a marine-grade vinyl that is waterproof and it even comes with bungee strap and suction cups to attach to your kayak or other areas. If you don't want to use the suction cups then they are removable as well. Did I mention that this bag even floats?! There is a 2 way Purge Valve for inflation and compression. The only downfall is that you don't get any variety of colour options. The only Dry Case backpack that is on sale for this much of a discount is the Magenta colour in size large. Many customer reviews say that other brands don't make waterproof bags in pink colours though, so maybe this is the pink bag you have been looking for.
This backpack also sounds quite comfortable wear based on reviews and the listed information on the Dry Case website. This backpack boasts chest straps, waterproof padded shoulder straps, and padded lower back support as well. Amazon.ca also offers free shipping on all orders over $25, so you won't have to worry about any extra costs or fees with this popular item.
(Expiry: Unknown)