(63% off) Headrush Bluetooth Speaker with LED Light Show only $47 & Free Shipping @ eBay.ca!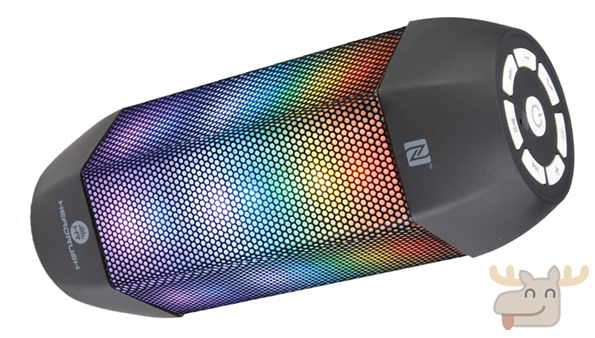 Yesterday I was on eBay and I found this stonking little deal on cupcake cases on their daily deals pages. I hit up the deals pages again this morning, and had a browse to see what I could see. My attention was grabbed by this Headrush Bluetooth & NFC Speaker with LED Light Show – initially it was the image that caught my eye. But upon price comparing and looking at alternatives, I decided that it was a really cool item at a great price and I should let you guys know about it too! You can grab this little beauty for a 63% discount – that's now $46.99 with free shipping to your home. :)
The original price on this Headrush speaker was $129.99, so it's an $83 discount. The fact that it comes with free expedited shipping is a real bonus too. The Headrush speaker ships from Ontario, from an extremely reputable eBay seller. They have 99.9% positive feedback on over 17 thousand sales, so that's a hugely positive aspect to the deal.
While there's no set expiry date for this Headrush speaker deal to end, it states that it has limited quantities available. If you're interested, grab it soon.
There are a number of features on this speaker which might be of interest to you:
Built-in LED light system
10 metre range
Up to 8 hours of battery life
Built-in microphone & rechargeable battery
I particularly like the colour scheme shown in the image above – do you? Here's a bit of a blurb from the Headrush specification page:
This HeadRush speaker features illuminating technology that will astound your pals – it displays up to 18 distinct light patterns that always get the party started. Sync your Bluetooth-enabled device to the speaker and enjoy your music wirelessly from up to 10m (33') away.
I personally think this would make a super gift for a tween or teenager. From the above description, I think they'd love to have something like this – either in their bedroom, or even when out and about.
I was trying to find you a video to show you the lights on the Headrush speaker in action, but I just couldn't find one of this exact model. However, there's an incredibly similar JBL speaker video here on Youtube, you might want to take a look at that to give you a general idea.
I didn't find this Headrush speaker online at many other outlets in Canada. The only place that it was available was at The Source, and it was priced at $91. The price from the eBay seller above is really a fantastic one.
(Expires: unknown)