(60% off) Super Funky 2 Piece Rockland Luggage Sets from only $36 & Free Shipping @ Amazon.ca!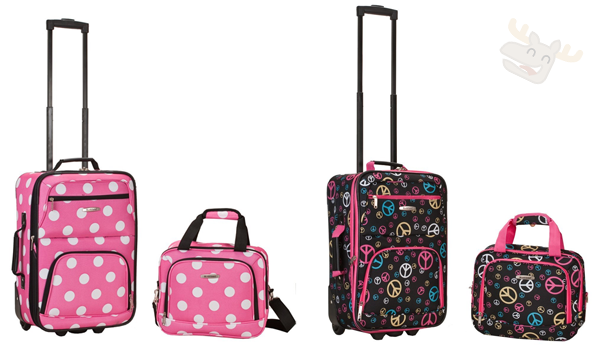 Anyone need a great deal on a little luggage set? There's a sweetly discounted price on these two piece Rockland sets on Amazon Canada today – up to 60% discount on some of the items. Prices start at only $35.99 for various colour schemes, including the two pictured above. Plus they come with free super saver shipping too!
There is a choice of colours in the Rockland luggage sets, but the price varies across the colour ranges. The best deal is definitely on the some of the pink luggage sets, but there are some other deals which you might want to consider as well if you really do not like the pink finishes. A few other examples of the good prices:
Pink polka dot – was $89.59 now $35.99
Mulpink dots - was $89.59 now $35.99
Pink bandana - was $89.59 now $35.99
Peace – was $89.59 now $35.99
Zebra – was $89.59 now $36.99
New Black Dot - was $89.59 now $37.99
Red – was $89.59 now $38.99
Black – was $79.99 now $39.99
Pink leopard - was $89.59 now $39.99
Black dot - was $89.59 now $39.99
Please note that NOT everything on the above link is a good deal. Some of the colours are NOT as highly discounted, but I looked through every colour and showed you all the lowest prices above.
Just to do a quick price comparison elsewhere online in Canada – I found similar Rockland sets for $52 at Tigerdirect, but then shipping would be on top of those prices. I believe the Amazon prices are a really sweet deal.
I actually think a colourful luggage set is a great idea. If you happen to be checking in cases when you are travelling by air, a bright and funky case is so much easier to spot on the baggage carousel. I have two large red Samsonite cases, and I can easily spot my luggage from miles away. The plebs with the black suitcases are all in a riot fighting over each others' cases… :p
(Expires: unknown)