62% Off Little People Disney Princess Musical Dancing Palace just $25 @ Amazon.ca *HOT*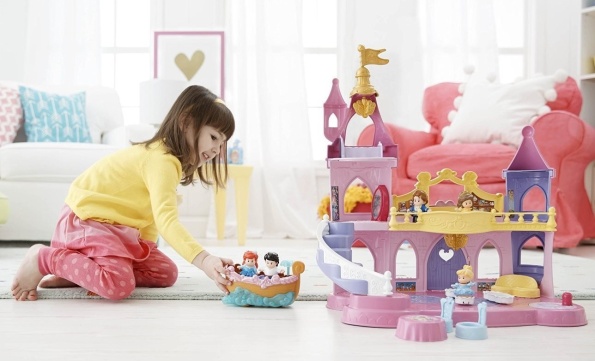 Little People toys are great for infants and toddlers. They are easy to hang onto and the sets usually have sounds and music to keep the kiddos entertained for quite a while. The Fisher Price Disney Princess Musical Dancing Palace by Little People is even on sale at Amazon.ca right now. Instead of paying $64.99 for this cute set, you will save 62% and pay just $25. That means you will even get free shipping! I told you guys about this set being the same price at Walmart.ca yesterday, but it has already sold out and this offer from Amazon is better with the free shipping.
Now your little princess (or prince) can play with a Little People castle of their very own - at half the cost! Get your hands on this Fisher-Price Little People Disney Princess Musical Dancing Palace before it sells out. 
This price is quite a steal, especially when you compare it to the price of the very same set at other Canadian retailers. Other Canadian stores have this same set for $55 and up. Walmart has it at the same price as I told you earlier, but it sold out at the speed of light.
This product has 38 reviews on Walmart.ca alone, and they all make the toy sound wonderful. So if you want some opinions from people who already own this product, then have a quick scan through that. I can tell you that Little People toys are durable and long lasting. My son even has some from when my little brother was a toddler if that gives you an idea. Here is one of the review from Walmart.ca:
My daughter loved this toy! It was easy to assemble, so that was a plus for me. All the parts are really sturdy so nothing is breaking apart. I would have liked more characters with the palace, but overall great purchase!
The only complaint I can find is that it only plays two songs. The Little People Farm Set my son has only plays two or three songs as well, but it doesn't stop him from playing with it. He makes up songs and stories of his own with the little characters, and your children will do the same with their Little People Disney Princesses.
Since this item is over $25, you'll get totally free shipping.
(Expiry: Unknown)