50% Off Hasbro Classic Operation Game Now $10 @ Amazon.ca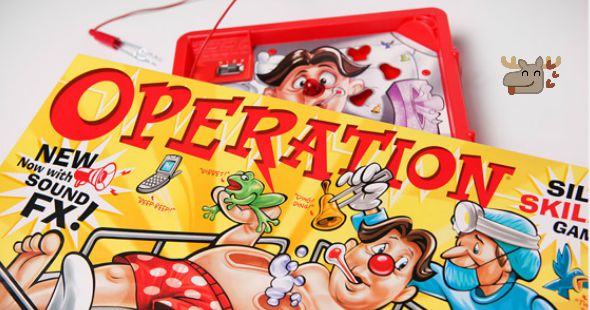 Christmas is coming and while you can't exactly gift "quality family time", you can gift board games and other fun stuff that will bring the family together during a fun family night. This Hasbro Classic Operation Game is currently on sale at Amazon Canada for a whopping 50% off the original price. That means you will pay just $10 for this classic and well loved game. Spend $25 to get free shipping from Amazon.ca.
I just loved this game as a kid. My family and I would gather once a week at the dinner table and play board games or card games. When it was my turn to choose, I always picked the Operation Game. I can't believe it is just $10 right now! Talk about a perfect Christmas gift for the family or the kids from Santa. You will get hours of entertainment for quite a low price.
This is the lowest price around for this favourite board game. Check out the cost for this game at other Canadian retailers:
$15.97 @ ToysRUs.ca
$19.93 @ Walmart.ca
$17.99 @ FactoryDirect.ca
The Hasbro Operation Game lets you and your kids take turns being doctors. You have to perform the "operation" and remove the appropriate body parts without sending the buzzer off by touching the metal sides to each operation site. There are 13 different plastic body parts included and some of them (like the wishbone or elastic band) prove to be quite challenging for even adults. While this game is rated for kids ages 6-10, I believe the entire family will enjoy this classic. You will need one or more players, whoever removes the most parts without messing up will win.
I always thought that this might be a fun drinking game for adults too. Have a drink every time you mess up your "operation". I imagine the operations would get more difficult with each drink that you have! It sounds like a fun girls' night to me, with your favourite wine or beer of course.
Now the only catch is that you won't get free shipping unless you spend $25 or more at Amazon.ca. You will need two "AA" batteries to play this game, so see if you can get them at a great price to get closer to that minimum spend. Also be sure to check out their sales and deals to see if you can spot anything else for under the Christmas tree. Maybe you can reach the minimum spend threshold to get free shipping.
(Expiry: Unknown)