(40% Off) Cuisinart Deluxe Convection Toaster Oven Just $120 @ Amazon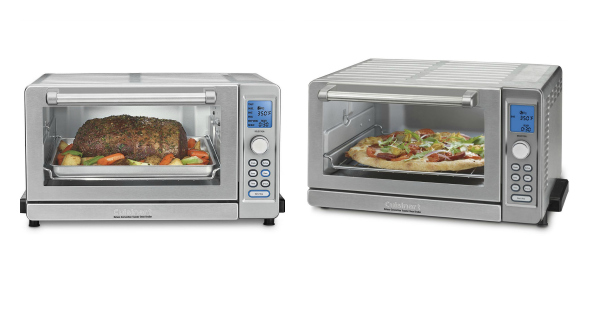 Moosers, here's another great deal from Amazon! The stainless steel Cuisinart Deluxe Digital Convection Toaster Oven Broiler normally sells for $199.99 but Amazon's current price is 40% off that at just $119.99! The cheapest I could find it elsewhere was $175 so this is a great deal on a handy, brand-name appliance.
I wouldn't want to live without our toaster over and ours is nowhere near this nice or multi-functional. It's so much easier to fire it up to make something small rather than waiting what seems like forever for the regular oven to preheat; much more energy efficient, too! This Cuisinart Deluxe Convection Toaster Oven has a 0.6 cubic-foot capacity, which translates to one 12-inch pizza or 6 slices of bread. It has 9 functions that include Toast, Bake, Broil, Convection, Defrost and Reheat.
The unit is controlled by a dial and LED buttons with a back-lit digital LCD display for easy visibility. You use the selector dial to choose cooking functions as well as to set baking time, temperature, toast shade and the clock. The timer can be set for as long as two hours. The oven features an interior that is easy to clean non-stick and comes with a removable crumb tray, baking tray, broiling rack and recipe book as well as a 3-year warranty. 
This Cuisinart oven has unique sensors; the 'Exact Heat' sensor maintains precise oven temperatures and the 'Always Even' shade control ensures that toast consistently turns out the selected shade. There are few things worse than running late in the morning and ending up with burned toast as you're fling out the door because you weren't able to hover over the toaster!
I was reading some of the comments and questions regarding the oven on various sites and one inquiry pointed out that there were different dimensions listed for the unit on different websites. As per Cuisinart Customer Service who responded, the oven actually measures 16.5" wide rather than the 19" stated in the Amazon description. Good to know! It's even more compact and should work for those with limited counter space.
Many retailers sell this model of Cusinart oven but, as I mentioned, the lowest price I could find elsewhere was $175; most places have it priced around the $200 mark. Save 40% at Amazon.ca and you won't have to worry about shipping fees either!
Hop to it before Amazon changes the price! Enjoy!
(Expires: Unknown)