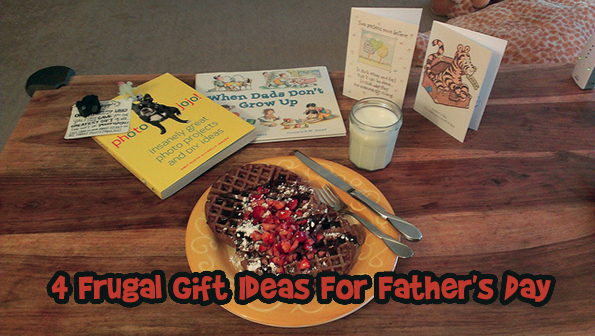 Father's Day is creeping around the corner and it is hard to believe that June is almost here, and half of the year is already finished!
Father's Day was inaugurated in 1910 in Spokane, Washington, of all places (as per Wikipedia) and was created in conjunction with Mother's Day to celebrate parenthood. It is important to celebrate because fathers are often the unsung heroes of the family. Don't get me wrong, mothers are of extreme importance in the family unit, but fathers are too!  Growing up, I think my father felt left out of our family sometimes just because we were closer to our mother, but now we make sure to include him and he is much more involved in our lives.
Here are some frugal gift ideas to get you and your children started for Father's Day:
Quality Time
By far the best way to spend Father's Day is to spend it with quality time in mind.  Playing a round of checkers or chess, going out for a round of golf, or spending time outdoors playing a round of basketball (provided he is able to, without medical conditions) is a perfect way to spend time with your father.  Of course, you can partake in the stereotypical Father-and-child quality time activity, fishing! For example, Groupon often has fishing trips that are 50% off in the Vancouver area for sturgeon fishing.
According to Investopedia, a day trip is a great Father's Day gift idea with fantastic return on investment.
Gift Cards
According to Suddenly Frugal, gift cards are one of the top gifts that are given for Father's Day.  Gift cards to his favourite store, an electronics store like Best Buy or Future Shop, or even to a specialty store like Golf Town will be much appreciated by him.  For example, although you might not be able to afford that 55" or 60" television that he has his eyes set on, you will be able to take away a portion of the cost with gift cards.
If you're looking to find discounted gift cards to a particular store, or are looking to swap your unwanted gift cards for a Father's Day related card, check out card swap.
Father's Day Candy Card 
This is a super cute idea on Pinterest, although not so great if your father has diabetes. A Father's Day Candy Card is a great Father's Day gift. You just need to buy a few chocolate and candy bars and get a poster board and a marker, and you're set!  Check out the candy card here on the Saving Money Living Smart blog.
A Father's Day Candy Card is a very creative and fun idea.
Coupon Booklet
One of the best presents your childrens' father would ever want would be a coupon booklet for chores rendered.  This would definitely be a great gift idea for a family with young children.  Yahoo agrees this is a great way to save money on Father's Day without looking cheap or miserly.
Some home made coupon booklet ideas include:
Chores for one day or one week
Breakfast in bed
Yardwork help
Children making dinner
Walking the dog
Stay on the same channel for one day - no questions asked
One nap without being woken up
Of course, other Father's Day gift ideas that won't fail to impress are personalized mugs, calendars, and keychains.  These can be made at online photobook shops such as Picaboo or Shutterfly.  They are a bit more conventional but a really thoughtful gift that will be treasured for years to come.  You can click on the aforementioned links for deals and coupons that Bargainmoose recommends.
As you can see, there are many ways in which you can save money for Father's Day without appearing too frugal.  As with most holidays and celebrations, they are reminders for us to slow down, smell the roses, and realize what's important isn't the day to day grind and achieving success, it is spending time with people we love, including all the fathers in our lives.
Have a great Father's Day!
Bargainmoosers, what are some other ways in which you saved money on Father's Day?
(banner image credit: Sean Freese)