34 FREE Apps In Celebration Of Appstore's Birthday @ Amazon Canada (Android Only) (EXPIRED)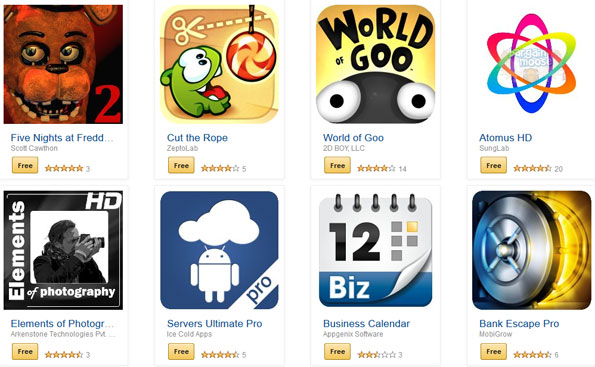 In celebration of the Appstore's birthday, Amazon is currently offering 34 apps at no extra cost. These are all normally paid apps but until Saturday, you can get them all for free!
This is actually a pretty awesome freebie because if you were to download all of these apps, then you would be looking at up to $115 savings! Now, you can certainly go on a downloading frenzy, especially since there is nothing stopping you from just deleting all of these ones that you don't actually want after, but perhaps it would be best to just download the ones you see yourself using! :P
Five Nights at Freddy's 2, which is the very first one in the image above, is actually one of the Appstore's most critically acclaimed app right now as it's super fun and very addicting. As the nightly security guard, your job is to guard the premises and make sure that nothing goes haywire... but of course, things do go haywire and it's your job to deal with them! The great part about this app is that it's kid friendly. It's usually priced at $3.39.
Cut The Rope looks like a worthy download as well and one that I would certainly go for if I had an Android phone. Originally selling for $1.02, it's a puzzle game that features 16 boxes with a whopping 400 levels. Forget Candy Crush and it's never ending levels, try this one instead as you might actually have a chance at beating it!
Servers Ultimate Pro is for the extremely tech savvy. It's usually priced at $13.39 and is a server setup app that can run over 60 different servers from your device, it has over 70 available protocols and 16 network tools -- wow! Usually, each server would cost either $0.99 or $1.99 but with this freebie, you get over 60 servers at no extra charge.
Element of Photography Pro looks like a great app for photography junkies. Usually listed for $2.50, this is actually an educational app that covers all aspects of photography from the basics to the more advanced topics. Even better is that it's available in 14 languages from English to French, German, Russian, Japanese, etc. If you have been looking into learning more about photography, then this is definitely a must-download!
Moosers, which app(s) will you be getting for free?
(Expiry: 21st March 2015)