3 Sprouts Hooded Towels Were $30 | Now $14 @ Amazon.ca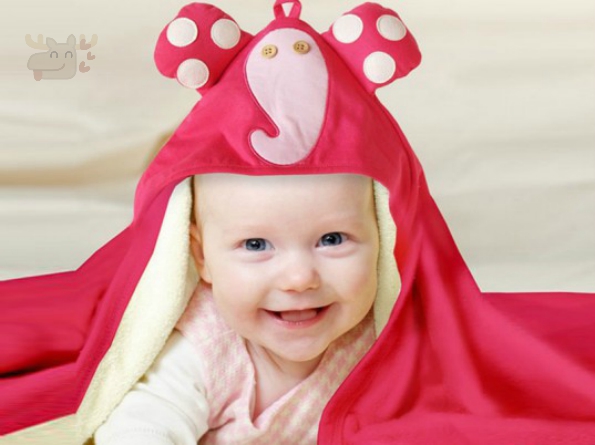 Cute towels for cute kids are on every parent's to buy list. I found a selection of 3 Sprouts Hooded Towels on sale from $29.99 down to $13.99 at Amazon Canada. Only three colours are included in this sale: Orange Tiger, Pink Elephant, and Purple Hippo. Receive free shipping with an Amazon Prime account or free shipping on orders of $25 - two towels will get you free shipping.
These towels are the cutest things ever. They are perfect for children ages new-born up to around 18 months of age. The towels are made from spa-grade natural terry on the inside. The cotton knit outside provides a durable outer for dragging around. Each towel measures 31" x 31" in size.
This hooded towel is machine washable for easy clean up. Towels tend to get abused around young children. Therefore, it is necessary to be able to just chuck a soiled towel in the machine and have it come our sparkling clean. These 3 Sprout towels are perfect for that and feature cute animal faces on the hood that children will love.
These towels make excellent gifts for new parents and soon-to-be parents. They are great for baby showers or your own baby kit. As one parent said on Snuggle Bugz:
I love these towels! They are so cute and very absorbant. Our daughter loves getting out of the bath and being wrapped in this. We make the noise of the animal the towel is as we get her out and she thinks it is hilarious. She loves being the tiger, monkey and hippo!
I found these same towels for $19.99 @ Chapters Indigo, $19.99 @ Well.ca, $22.99, and @ Bed Bath & Beyond. I did find a few on sale for $13.99 @ Snuggle Bugz Canada but they have a free shipping minimum of $49, which is twice that of Amazon Canada. Given that Amazon Canada also has a very reasonable shipping rate for orders under $25, I thought this was worth blogging.
Amazon's price change often so pick up a tiger, hippo, or elephant while they are still on sale.
(Expiry: Unknown)