GamesDeal: XBOX Live 12-Month Gold Membership only $44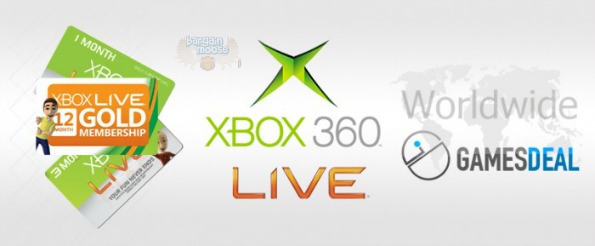 GamesDeal is selling the XBOX Live 12-Month Gold Membership for just $43.44 plus a 4% ($1.71) payment fee to equal $45.15. Use coupon code allkeyshop to take 2% off your purchase, which brings the membership down to just $44.28 (Canadian).
I price compared the 12-month XBox LIVE Gold membership with other retailers:
$48.99 @ Costco Canada
$59.99 @ Future Shop Canada
$56.83 @ Amazon Canada
$59.99 @ Microsoft Store Canada
$59.96 @ Walmart Canada (OOS)
$59.99 @ Dell Canada
$59.95 @ Chapters Indigo Canada
I know this membership is available at MANY retailers, so this is certainly not a thorough price comparison but i figured comparing to seven of the most popular stores would be pretty good coverage. Costco Canada comes close, but Games Deal still has the better offer by a couple dollars.
I am aware that US Microsoft Store has the US region gold memberships on sale for $39.99 US right now, but our exchange rate makes that deal not as good. $39.99 US = $50 CA with today's exchange rate and not including exchange fees that your credit card will add on. That makes that deal cold as it is priced even higher than Costco's price.
Now, I told you how to get this price by applying the coupon code above. Here is what the deal looks like on the website and in your cart: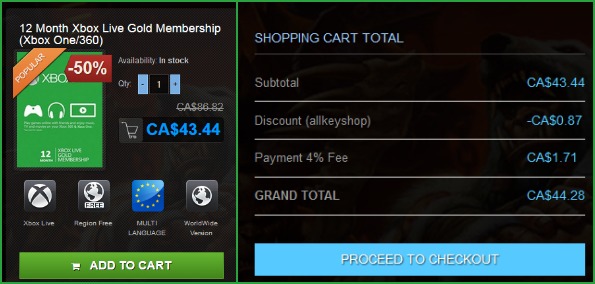 This is a very exciting deal as the Xbox Live memberships do not go on sale that much (except at Costco). With nearly $16 off the membership, you are saving around 26% on your membership.
I am not too familiar with the Xbox system, but I do know having the gold membership will help you score other deals as well. I recently was looking at a sale on the Xbox store where a bunch of the deals were open to Gold members only. If you did not have the gold membership, then you would have to pay full price for the game. For example, you can save 50% on Duck Dynasty with your gold membership.
The 12-month gold membership you purchase is region free (worldwide). It can be redeemed on a Canadian system without having to change your region to redeem. In addition, there are no shipping costs, as you will be emailed the code. I do not expect to see this price from any retail store soon, so pick this baby up as soon as possible. If you miss out, Costco is a good alternative.
(Expiry: Unknown)