EBGames Canada: Get 30% More Value When You Trade Slim PS3/xBox/WiiU Towards PS4/xBox One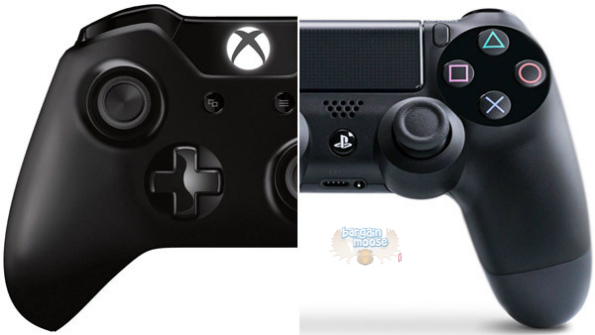 Optimize your trade when you trade out your old console for a new pre-order at EB Games Canada.
Is your old console (or new in the case of the WiiU) collecting dust? I know if my PS3 wasn't my (and perhaps more importantly, my son's) Netflix machine I'd definitely be doing this. I almost wish I had bought an xBox 360 or WiiU just to be able to trade it in. I don't buy a lot of games and, at this point, I've bought pretty much everything I'm going to, so if I traded it in, it wouldn't be a big deal. I guess I do still need to pick up Assassin's Creed 3, so I'd miss playing that. What I'm saying is that, at this point in the console's life cycle, if you aren't playing it a lot, it won't hurt too much to give it up. The PS4 is coming out on November 15th and the xBox One has to be somewhere around there, so you aren't going to have to wait long to get the next-gen gear.
I also suspect there are a lot of people out there who have a PS3, an xBox 360 and maybe even a WiiU. You could trade them all in for tons of credit, or just pick one or two. You can live with one console, right? Right. The value of your console depends on what you have with it. A bigger hard drive gets you more credit and each console has a different value. I also suspect, and I'm not 100% sure, that the value is different based on where you are. Whatever your old Slim PS3, Slim xBox 360 or WiiU is worth, you get an extra 30% on top of its value when you trade it in towards a PS4 or xBox One.
This deal is available in store only.
(Expires: 23rd August 2013)