Amazon.com: Get Assassin's Creed 4: Black Flag for PS3 for $30 then Upgrade to PS4 Version for Free or $9.99!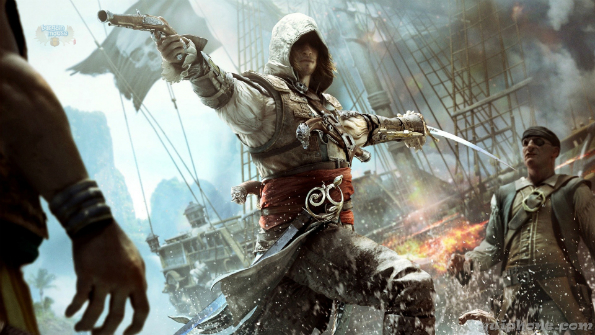 The latest game of one of the best series on whatever console you have from Amazon.com!
You're getting the PS3 version of AC4:BF for $29.99 and then upgrading to the PS4 version for free or $9.99, depending. We'll get in to that later.
This is a weird deal so listen up and hold on to your butts. I'm going to make a list for you.
This is Amazon.com, not .ca. Get an American friend's address and use that. Don't worry, this is a digital copy so they won't be shipping anything to your good friend Brian P. May of Des Moines, IA.
Click on the link above and choose to purchase the Digital Version Assassin's Creed 4: Black Flag for PS3. It is $29.99 right now. It will give you a digital code to get the game.
Sign in to the Playstation Entertainment Network account section.
Click on redeem prepaid card under account.
Enter the code you got from Amazon in step #2.
If you got a PS4, you likely got a card in there with a free trial of Playstation+, Sony Unlimited Music and, most importantly, $10 to use in the Playstation Store. Redeem the $10 code in the same fashion in which you redeemed the code in step #5. If you don't have this code or already used your free money, get out the credit card, you'll need it again.
Go to the Playstation Entertainment Network Video Game Store PS3 to PS4 Upgrade page.
Buy the PS4 version on Assassin's Creed 4: Black Flag for only $9.99. If you have the $10 credit mentioned in step #6, you get it for free and have $0.01 left just for fun!
A couple of notes: first, I've tested this and it does indeed work. I now own AC4 for PS3 and PS4 for only $29.99. Secondly, you can redeem the codes on your console but I gave the steps to do it on your computer since you're probably on your computer right now.
BOOM! What, what!? PS4 version for $20 - $30 less than retail! That's right! That's just how we roll here at Bargainmoose!
(Expires: Unknown)