Home Depot Canada: Paint Rebate Up To $25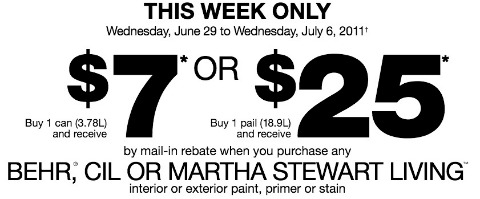 Buy any BEHR, CIL or Martha Stewart Living interior or exterior paint, primer or stain at Home Depot Canada before 6th July, 2011 and receive up to $25 back by mail-in rebate!
Buy 1 can (3.78L) and receive $7 by mail-in rebate
Buy 1 pail (18.9L) and receive $25 by mail-in rebate
You will need to complete the form and submit it with a photocopy of your receipt before 5th August, 2011. There is a limit of one rebate per household or company.
If you are taking on any painting projects this summer either indoors or outdoors, you'll want to take advantage of this rebate. You'll be happy you did when the cheque arrives in the mail!
(Expires 6th July, 2011).