Home Depot Boxing Week: All Vacuums 15% Off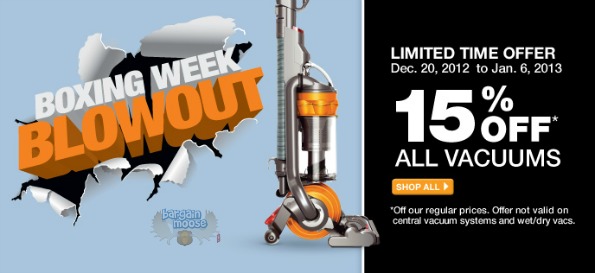 Home Depot is starting Boxing Week early and has all vacuums 15% off online and in-stores (some items only available online).
Let's start off with the fantasy vacuum - the one that does the job for you - the Roomba robotic vacuum (item #991521). With automatically adjusting heads for different floors, this machine stays longer on dirtier areas (it's smart like that). You can even schedule it to start at a certain time! Set up virtual walls where Roomba is not allowed to go and this guy will vacuum up to three rooms on its own. Get it for only $381.65, regularly $449.
I can't say enough good things about Dyson and this Dyson hand-held (item #918375) is next on my wish list. With the new Dyson digital motor featuring Root Cyclone technology you will never lose suction. Washable filters and an easy to empty hygienic bin make this an easy-to-maintain vacuum. Get it for $169.99, regularly $199.99.
If you need a carpet cleaner, the Bissell Proheat Powersteamer (item #971526) is a great upright deep cleaner (and I know with 22 people coming to my house for Christmas, I'm going to need it). With superior suction and deep cleaning, the built-in heater heats hot tap water while the DirtLifter™ power brush has 6 rows of brushes to lift out all that dirt. Get it for $195.49, regularly $229.99.
Get free shipping on purchases over $299 until January 6, 2013.
Expires: 6th January 2013
Don't forget to check the Bargainmoose forum for more Boxing Day sales!