Toys R Us Canada: The Ultimate Family Event With Freebies, Discounts and More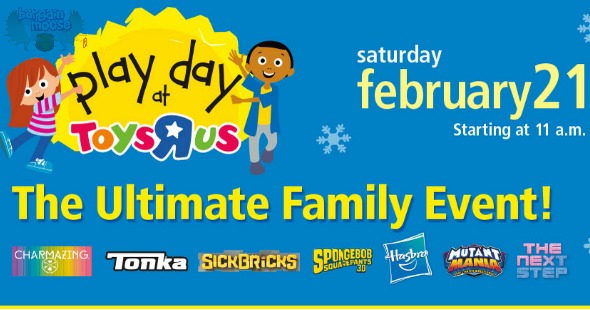 This Saturday, the 21st of February is the Toys R Us Canada Ultimate Family Event. During this Toys R Us event, you will be able to enjoy great discounts, freebies, and giveaways for your whole family (old or young). There is no cost to get into this event, so just head on over to your local Toys R Us store tomorrow and enjoy the fun with your entire family.
Are you ready for some exciting games, crafts and activities? During these frigid Winter months, we try to find activities for our family that keeps us in the warm indoors. Toys R Us Canada has their Ultimate Family Event at participating locations tomorrow, and it is absolutely free. This event takes place starting at 11 AM on the 21st of February.
Activities, crafts and freebies are based on a first come, first serve basis at each location. To make the most of this offer, I would get to your local Toys R Us Canada store bright and early to enjoy the activities. There are a few activities on the agenda for both boys and girls. Here is a look at what is in store for you at the Ultimate Family Event at Toys R Us tomorrow:
If your little girl loves charm bracelets, you won't want to miss out on the Exclusive Hibiscus Charm Bracelet Make N' Take. During this activity you will be able to start your charm collection and construct your first bracelet. There are only 100 bracelets available at each Toys R Us store. Unfortunately this offer is not available in Quebec stores.
Have you heard of the Sick Bricks game by Spinmaster? Children ages 7 and up will enjoy this video game. It is the only game that will allow you to customize your very own Sick figures and throw them into your digital world. You can learn more about this game in store and even acquire a free Sick Brick character to get you started in the fun.
Little Boys will line up to participate in the Tonka Dump Truck Paper Craft. During this craft you and your little one will create a papercraft Tonka Dump Truck. There are only 5 easy steps to this craft which makes it suitable for most ages. You will also have the opportunity to win autograph merchandise from The Next Step, play some famous Hasbro Games and enter free giveaways for free t-shirts, Beados and more. You can even get exclusive in store savings during this event.
The best part is that there is no purchase necessary to take part in this Toys R Us Canada Ultimate Family Event, just show up.. These activities are best suited for children ages 5 and up but we bring my 3 year old niece who enjoys them just the same.
(Expiry: 21st February 2015)