Timothy's World Coffee Canada: Free Coffee Sample When You Sign Up!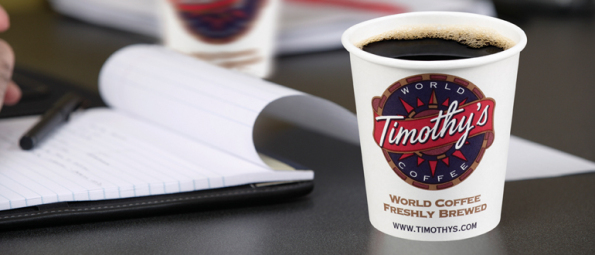 Here is another great Canadian freebie. Nothing beats a free coffee, especially in the morning. Timothy's World Coffee is one of my favourites, aside from McDonalds Coffee. If you sign up for the Timothy's World Coffee Club, you will receive a free coffee. Seems simple enough, right?
To get this freebie from Timothy's World Coffee Canada, just sign up for their eClub. Shortly after, you will receive a coupon via email that will enable you to get that free morning boost. Personally, I need my morning intake of caffeine to get me moving. By signing up for the Timothy's eClub, you will also get all of the latest news on their coffees and promotions.
Timothy's World Coffee Canada has mild coffees, medium coffees, dark coffees and flavoured coffees. Personally I am a fan of both mild coffees and flavoured coffees. The Breakfast Blend is great. You will find that this coffee blend is a subtle blend with a smooth and easy going flavour. It has a hint of sweetness which makes it perfect for early mornings.
When it comes to flavoured coffees, Timothy's has quite a selection. Some of these flavours are not available anywhere else and keep me coming back for more. The flavoured coffee selection includes: Cinnamon Pastry, French Vanilla, German Chocolate Cake, Irish Cream, Sugar Bush Maple, Toasted Coconut and others. Could you imagine a fresh hot cup of German Chocolate Cake coffee? Now imagine that cup of coffee is free.
If you prefer medium coffees, there is quite a selection. You can choose from coffee blends like Colombian La Vereda, Italian Blend, Timothy's Best Blend and others. I know a lot of men that prefer the medium coffees. Then there are the dark coffees. My grandfather is partial to the dark coffee blends. You can choose from blends like Kenya Noir, Mocha French, Rainforest Espresso and others.
You should receive your coupon to grab a free cup of coffee within 24 hours of signing up. As far as I know, this is an ongoing offer. You can only use this offer once though. Be careful! One of Timothy's fresh brewed coffees may just have you hooked for life.
(Expiry: Unknown)