Starbucks Canada Freebie: Find Your Perfect Roast - Free Coffee Samples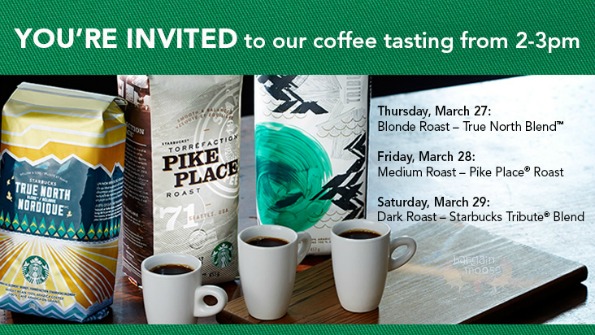 How does a free Starbucks coffee sound? Sounds pretty good to me, so I'll be heading to the Find Your Perfect Roast free coffee tastings at Starbucks this week!
I admit it, I'm a Starbucks addict. But I'm not a complicated one -- I don't go in for the drink orders that take a half hour to recite and cost as much as an entire meal. I just like good, strong, black coffee. And lots of it. So I'm pretty excited about this freebie.
Find Your Perfect Roast is a three-day event that will feature a free sample of a different Starbucks blend each day. It runs from Thursday March 27 to Saturday March 29 at participating locations (fingers crossed the location at the end of my street is participating!). Free beverages will be available from 2-3PM on each day, here's what you'll be sampling:
Thursday: Starbucks True North Blend. A Starbucks blend specifically for Canadians! This coffee is a more mellow "blonde roast" intended for everyday drinking. A nice, polite, Canadian way to start your free-coffee tasting.
Friday: Pike Place Blend. This one's my favourite right now. It's only a medium roast (I usually prefer dark), but it's got a great rich flavour. According to Starbucks it features a "well-rounded blend of Latin American coffees with subtly rich flavours of cocoa and toasted nuts." According to me, it keeps me sane and awake after a night of dealing with a fussy toddler who couldn't sleep.
Saturday: Starbucks Tribute Blend. For your final free coffee, take it up a notch with this bolder spicy blend that combines four coffees for a full-bodied dark roast.
(Expiry: 29th March 2014)