Pangea Organics Canada Freebie: Free Italian White Sage Body Wash ($18 Value) With Purchase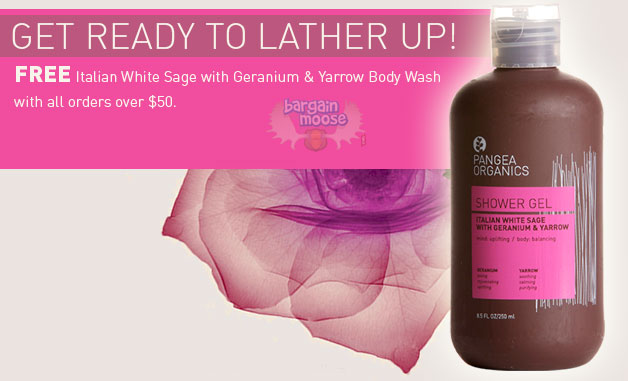 Even though this one is a freebie with purchase, it's still a freebie and it's still a great one! Shop for over $50 at Pangea Organics Canada and make sure to enter the code below at checkout because you will then also receive an Italian white sage with geranium & yarrow body wash for free. It's valued at $18.
Click here to shop @ PangeaOrganicsCanada.com now
Coupon Code: 3BODYWASH
Discount: free Italian white sage body wash on orders $50+
Expiry: Unknown
I have been meaning to shop at Pangea Organics and this freebie definitely gives me a good reason to do so because on top of being a body wash, it actually also doubles as a shaving product that can be used by both men and women. Designed to uplift and relax, this body wash actually also features a number of 5 stars out of 5 stars reviews, which make me want to try it that much more. Here's just one of many reviews:
I like Pangea Organics body wash, it really helps with skin inflammation and allergies, it doesn't have any synthetic ingredients and it makes skin feel healthy and smooth, like i don't even need to apply body lotion after shower. I like that it's like a clear gel without colours and it smells natural, like sage and other plants.
Alternatively, you can also use the Pangea Organics Canada promo code: 1CLEANSER to get a 25% discount on all cleansers and creams. That's a great discount as well but personally, I would definitely prefer the Italian white sage freebie because there aren't too many cleansers and creams to choose from anyways. In fact, to make it easier, here they all are:
Cleansers
Australian wild plum & willow cleanser: reg. $30/ now $22.50
Egyptian calendula & blood orange cleanser: reg. $30/ now $22.50
Creams
Italian red mandarin with rose facial cream: reg. $38/ now $28.50
Moroccan argan with willow & rosemary facial cream: reg. $38/ now $28.50
Nigeria ginger, sweet lavender & thyme facial cream: reg. $38/ now $28.50
Shipping is free on orders over $75, otherwise a $8.95 fee will apply. Every order also qualifies for 1 free sample and you have the choice between a total of four different ones. Personally, I would go for either the Egyptian geranium body scrub or the Japanese matcha tea mask because on top of having enticing names, they also feature more fl oz than the other two, which is always a major plus when trying out new stuff! :P
For a quick reference, all of these Pangea Organics Canada coupon codes are also located in our forum.