Krispy Kreme Canada: Free Dougnut & Coffee Today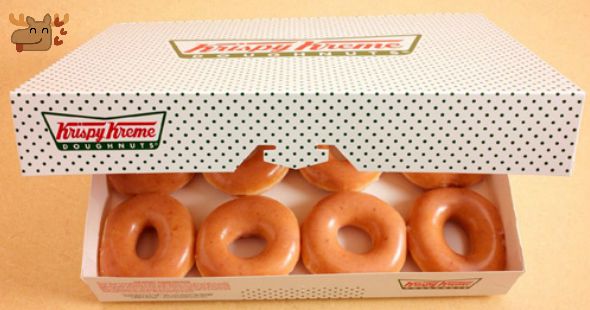 Happy National Coffee Day! If you didn't get a chance to make it to Coffee Culture before their free coffee offer ended today, then don't fret. You can still make it to a Krispy Kreme Canada location and claim a free coffee plus a free doughnut! This offer is valid all day, so get there when you can.
So, head into Krispy Kreme Canada today and you will get a free 12 oz coffee plus a free original glazed doughnut. It doesn't get much better than that! If it is hot in your area, you can always upgrade and get a small iced coffee, latte or mocha for just $1 more. I have yet to try the Krispy Kreme lattes or iced coffee, but I bet it is totally worth it.
Everybody seems to be obsessed with Krispy Kreme doughnuts, so getting one for free is definitely a deal to brag about. Krispy Kreme Canada has locations in Ontario, British Columbia and Quebec so I really hope there is one close to you so you can enjoy this offer. There is no purchase required either! I asked some of our fellow bloggers about their feelings towards Krispy Kreme, since I have never been to a store personally. I have bought the boxes of their doughnuts from grocery stores but Eva tells me that is not the same as eating them nice and warm. Here is what Eva had to say about Krispy Kreme:
When my husband was just my new boyfriend, he bought me an entire box of Krispy Kreme doughnuts for the long ride back home (long distance relationship). I ate every single one on the way!
So you can probably bet that Eva would quite enjoy this promotion! I wish they had more Krispy Kreme locations. I quite honestly find myself tempted to drive out to Krispy Kreme about 45 minutes from me after looking at all the images of their delicious Original Glazed Doughnuts on Google. Who's with me!?
Moosers, do you just LOVE Krispy Kreme?
(Expiry: 29th September 2015)