Home Depot Canada: Free Workshops in April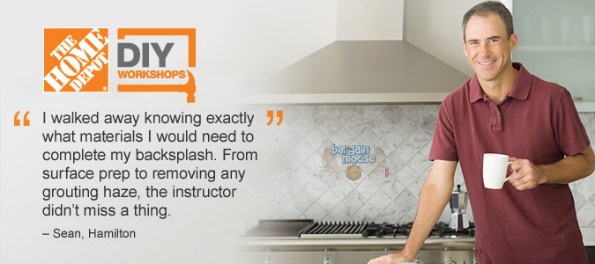 Home Depot is one of those places that really is for the everyday man.  They have absolutely everything to build, fix, or update your home.  For the month of April, they are offereing some wonderful free workshops that will help you become a great Do It Yourselfer.
There are 4 workshops in the month of April and all of them are absolutely free.
Build a BirdBath (Rio 2 Movie) April 12th 2014
This workshop will last for 2 hours total starting at 10am at your local Home Depot.  It is the perfect workshop to bring your kids to so they can help you out.
Build a Deck April 19th 2014
This is a 1 hour workshop starting at 10 am as well.  If you are thinking about updating your deck or creating a new one, this is the perfect free workshop for you.  The insight you will learn here could save you a lot of money.
Prepare your Lawn for Spring April 23rd, 2014
This is also a 1 hour workshop but this one is offered at night.  It starts at 7pm and  would be a bonus for any home owner to partake in.  Not only will you learn how to fertilize, spread seed, and aerate your lawn, you will learn how to maintain your lawn tools, which is a bonus.
Install a Wood Fence April 27th, 2014
This 1 hour workshop starts at 1pm and will teach you great techniques for installing a fence.  You will learn how to install fence posts, rails, pickets, and will learn all of the basic safety practices for this project. Building your own fence could save you a lot of money since it is such a big project!
These workshops are open to both men and women so fear not if you are a woman that want to be a bit more handy.  Each workshop has a registration beside it and a list of items it requires. The best thing to do is sign up sooner rather than later so that the spots don't all get filled before you try.
This is not only educational, but it is a great way to get to know other men and women that are interested in this type of thing!
(Expiry: Varies)