Get a Free Soft Drink for Signing Up @ New York Fries Canada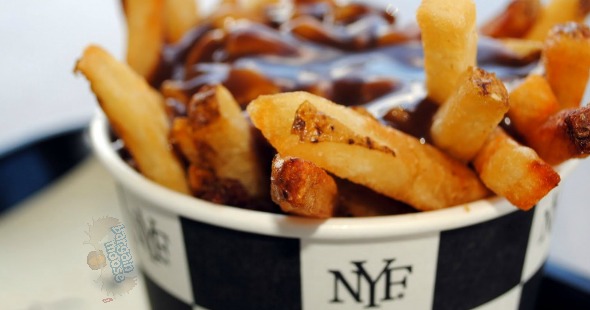 New York Fries addicted? I am too. I probably enjoy a delicious Pulled Pork Poutine from New York Fries at least once a month. Delectable, salty french fries are just not the same without a drink like Coke or Dr. Pepper. Right now, you can get a free soft drink just by signing up for the New York Fries loyalty program. Hurry though, this offer is only for a limited time.
Not only will you receive a free soft drink for signing up for the New York Fries Loyalty Program, but there are lots of other perks as well. If you are a regular at NYF like I am, then you won't want to miss out on these advantages.
First of all, signing up for the NYF Fry Society Loyalty Program is easy and free. Once you sign up, you will get a Fry Society Account. You can scan your Fry Society loyalty card that will be on your smartphone whenever you make a purchase at your local New York Fries restaurant. Every purchase you make will earn you one point, and after 10 points are earned - you can claim any item off the menu for absolutely free. You don't even need to download the app to store your NYF loyalty card. You can just add your New York Fries Society Card to your Passbook on your phone.
There are a few different opportunities for freebies when you sign up for this particular loyalty program. You will be gifted with a free regular fries on your birthday. You will also get to enjoy special offers and discounts that are only available to Fry Society members. If you are thinking of getting someone a gift card for NYF, you will even gift yourself. Preload a $25 gift card for New York Fries Canada and you will get a free poutine. While the free soft drink offer expires on the 30th of April, the other offers seem to remain pretty constant.
What is your favourite menu item from New York Fries?
(Expiry: 30th April 2015)