Free 5 Day Pass @ Goodlife Fitness Canada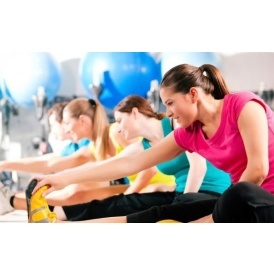 To get you up and moving every day, you can sign up at Goodlife Fitness and receive a free 5 day gym membership to use at any of the 350+ Goodlife Fitness clubs across Canada. The rest is up to you. But for now, start with a free membership at a Goodlife location of your choice. We posted a similar offer back in November and it was a hit, so if you missed out then here is your chance again.
They say a habit or routine takes 7 days to make and a month to break, so maybe after this free membership you will be hitting the gym and exercising to keep it up. That was one of my New Years resolutions last year, but unfortunately I became too consumed with other life tasks and didn't stick to it. I am going to try again with this free membership for sure.
So basically how you move each day is up to you. You can workout every day, walk for 30 minutes, do an epic spin class, yoga...whatever floats your boat. No exercise is too much or too little, the goal is just to do something in regards to exercise every day and make the most of your free trial membership. This free membership will surely inspire you. You must be a new member to enjoy this freebie from GoodLife Fitness.
Goodlife Fitness is actually pretty awesome. I have had a membership with them before and I really enjoyed their gym. It was always clean, and I really liked that they had a women's section. It kept male eyes and comments at bay, and I honestly felt a lot more comfortable working out with just women around. So to get this freebie all you need to do is sign up and then they will send you an email within 24 hours. You can then present that email at any participating GoodLife location in Canada to redeem your free membership.
(Expiry: Unknown)