GameStop Canada: Free Map for Dragon Quest Sentinels of the Starry Skies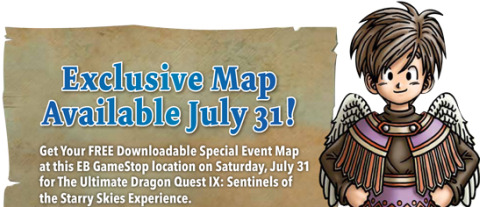 This is for all you Nintendo DS owners who play Dragon Quest. You can get your FREE special event map for The Ultimate Dragon Quest IX: Sentinels of the Starry Skies Experience on July 31, 2010 ONLY. This is an exclusive map that you can only get in-stores!
How do you get it you say? Here is how:
Come to these GameStop - EB GameStop locations on Saturday, July 31 from 2pm - 4pm, to download an exclusive map and trade maps with others using Tag Mode. Participants will have the chance to win a Midnight Blue Nintendo DSi XL!

In order to download the exclusive map, customers need to make sure they have unlocked "Quester's Rest in Stornway.

Participating locations:

4700 Kingsway, Unit 1159 – Burnaby, BC
6551 No. 3 Road, Unite 1512 – Richmond, BC
3147 Douglas Street, Unit 653– Victoria, BC
650 West 41st Ave., Cru #403 – Vancouver, BC
2929 Barnet Hwy., Space 2432 – Port Coquitlam, BC
2965 Guildford Town Centre, Unit 2264 – Surrey, BC
110-333 Brooksbank Ave – North Vancouver, BC
Ro47-3625 Shaganappi Trail Nw, Unit 34-a – Calgary, AB
11100 51 Ave Nw – Edmonton, AB
2525-36th Street Ne, Space# 122 – Calgary, AB
19 Riedel St, Unit 105 – Ft Mcmurray, AB
2965 Gordon Road, Space 0060a – Regina, SK
86-1225 St. Mary's Road, Space #129 – Winnipeg, MB
66q-1485 Portage Avenue, Unit 161a – Winnipeg, MB
25 Peel Centre Drive, Space # 253b – Brampton, ON
100 City Centre Drive, Space 2-115 – Mississauga, ON
550 King St North – Waterloo, ON
3401 Dufferin Street, Unit 121 – North York, ON
1800 Sheppard Ave, East, Unit U275 – Willowdale, ON
220 Yonge Street, Suite 110 Box 511 – Toronto, ON
245-1 Bass Pro Mills Dr – Vaughan, ON
50 Rideau Street, Unit 129 – Ottawa, ON
435 Stone Road, Unit #l2, Guelph, ON
419 King Street West, Unit #2222 – Oshawa, ON
6801 Trans-canada Highway, Unit #c024 – Pte Claire, PQ
677, St. Catherine Street West, Local M-20 – Montreal, PQ
1381 Regent Street, Unit L001 – Fredericton, NB
21 Mic Mac Boulevard, Unit 167 – Dartmouth, NS
48 Kenmount Road, Unit 2155 – St John's, NF
I have never touched a DS system so I know nothing about how this works, sorry! If anyone knows, drop us a line!