Free "The Most Amazing Daddy That Ever Lived" Printable Book for Father's Day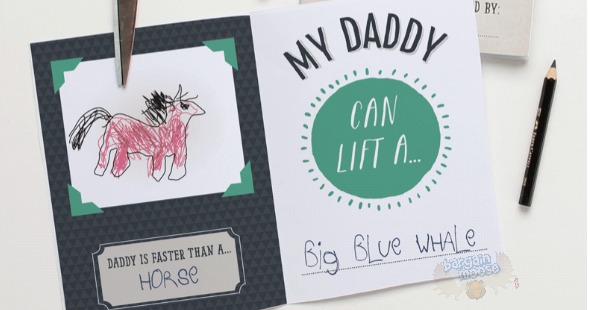 Father's Day is fast approaching. While I have already purchased the gifts I see suitable, I had not found the perfect sentimental gift yet. This adorable, printable book is available to you for absolutely free - so perhaps we have both found our perfect sentimental gift. Just head on over to TinyMe.com and print "The Most Amazing Daddy That Ever Lived" before time runs out.
This Father's Day printable book is a great freebie. If you have a printer available, click print and get started. You and your children can completely customize this printable to be a perfect gift for Daddy. I am sure many hearts will be melted. There are 12 pages, so make sure you have quite a bit of colour ink left, and a creative mind ready. Sit down with your kiddo and fill out information about Dad, such as:
My Daddy can lift a...
My Daddy's super power is...
The best thing about my Daddy is...
At work Daddy...
This is my Daddy (draw picture)
Daddy is not even afraid of...
Daddy is faster than a...
Your child may have some pretty hilarious endings to these statements. As you can see by the example at TinyMe.com, that child's dad was faster than a horse, although I am pretty sure they drew a picture of a unicorn. Apparently you Dads just drink coffee at work, and you can lift a blue whale. I am excited to see what my son would say to these questions in a few years down the road. He is just 2 now, so a little too young.
So if you are prepared to make Dad laugh, smile and perhaps even cry - then print out this 12 page free book for you and your child to illustrate and answer the questions. This is such an awesome homemade Fathers Day gift, and I can't believe it is completely free. There are even instructions on how to fold the book and put it together properly. There are even other free printables to explore at TinyMe.com. Some of the other free Fathers Day printable include:
Fathers Day coupon booklet
Tie lunch bag
Picture frame Fathers Day card
and more
So, Moosers, what do you think your children will answer to some of these questions?
(Expiry: Unknown)