Free Swimming This Summer From Tim Hortons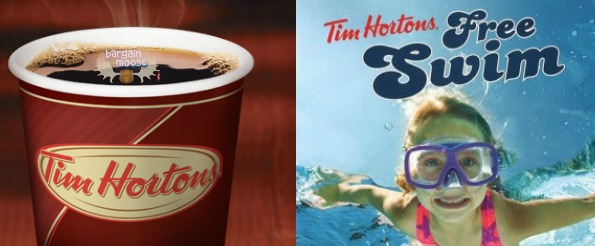 I love all the different charity work that Tim Hortons does and this time they are offering a freebie for young and old.  During March break they offered free skating and this summer is something that will cool you off as well. For the months of July and August, Tim Hortons has paired with some Canadian pools and is offering free public swimming!
The lucky provinces for this deal are Ontario and Alberta.  In Alberta the free swim is actually starting early and is being offered this week as well on June 27th, which is a nice little bonus.  The time for the free swimming will vary for each different location so make sure to check the participating pools before you head in for your free swim.
There is no coupon to get this deal you just have to show up at the free swim times.  You can go in as many times as you would like and there is no age limit for these free swims.  It is perfect to pass the time as a family and get some exercise in the process because your entire family will be free!
Keep your eyes peeled for more free deals like this one from Tim Hortons because they seem to do one per season.
The fact that Tim Hortons is sponsoring this free summer swim schedule is just one more reason they are a great company!
(Expiry: End of August)