Free Samples From Design-A-Tea ($1 Shipping)
Are you a tea drinker? I am. :) I usually have a plain cup of tea in the mornings to start off my day. Sometimes I'm partial to a cup of chai, but it's nowhere near as good as it was in India!
If you'd like to try them out, you can order some free samples of tea from Design-A-Tea. You choose your "base tea" then you can add 2 flavors to it as well.
For example, how about a cup of green tea, flavored with cherry and rum? A cup of oolong, flavored with nutmeg and apple?? A cup of black tea, flavored with apricot and amaretto??? There are loads of flavors to choose from.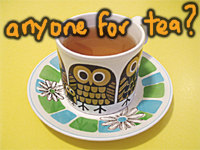 They ship to Canada or the US. If you customize those 2 free samples, you are only charged a dollar for shipping! You can up the quantity in your cart, but the shipping charge goes up to $5.
Which medley did you order?
Thanks S.britt