Free Kleenex Care Pack & Coupon!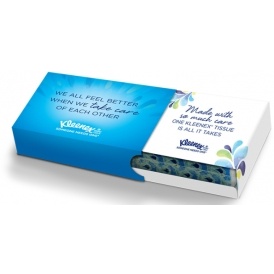 *Bump! This offer is back again :)*

Kleenex Canada has a cute little offer available for free. Follow the link below and you can mail a friend (or yourself) a free personalized Kleenex Care Pack that also include a coupon for a nice discount on a future Kleenex purchase.
This is a super cute little freebie. Mail someone a free personalized Kleenex Care Pack and you will receive a coupon for spreading the care. If you can't think of anyone, then simply mail the care pack to yourself. Simply start by choosing one of the available, cute greetings.
The greetings include:
Take all of these and call me in the morning.
When it comes to best friends, none are better than you.
I don't just say I care. I send it.
or even create your own message!
You'll even get a preview of what the Kleenex Care Pack will look like once you have selected a greeting or once you have created your own greeting. Then I signed in via Facebook, but you could also create an account. Confirm your email, enter your shipping information and voila!
There is no expiry date listed for this offer, but I am sure there are limited quantities available.
(Expiry: Unknown)