Free Fries On National Fry Day @ New York Fries Canada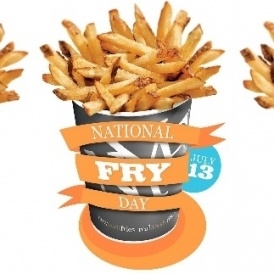 National Fry Day is coming up on July 13th - do you know what that means? New York Fries Canada is offering free fries! All members of the New York Fries Fry Society loyalty program will receive free fries. Be sure to sign up for the Fry Society before July 12th at 11:59 PM EST to get this offer.
Everything tastes better when it is free, and New York Fries always tastes good. While my diet is going to kick my butt for redeeming this offer, my taste buds are going to thank me. Join the Fry Society by the 12th of July at 11:59 PM EST and on July 13th you will have a free order of regular fries loaded onto your Fry Society member card. These free fries can be claimed anytime until the 31st of July, 2016 so you have lots of time to redeem your freebie.
My favourite option from New York Fries has to be their Pulled Pork Fries. I am addicted to pulled pork and this delicious treat satisfies my addictions. I am saying "treat" because my thighs would tell on me if I ate this meal too often. But I can never turn down a good freebie, so I will join the Fry Society and claim my free regular fries from NYF next time I am shopping at the mall with my kiddo.
Joining the Fry Society Loyalty Program has even more rewards than these free regular fries. It is free to join and you will receive plenty of perks such as:
earn 1 point for every purchase
after 10 purchases, you can choose any one item off the menu for free
get a free poutine when you preload $25 on your Fry Society card
free regular fries on your birthday
double points opportunities
and more
If you have an iPhone, you won't even need to download the New York Fries mobile app. You can just add your New York Fries Fry Society Card to Passbook and redeem your freebies there. Seems pretty simple to get some free fries, right?
(Expiry: 31st July 2016)