Free Coffee Today & New Year's Day @ Mac's Canada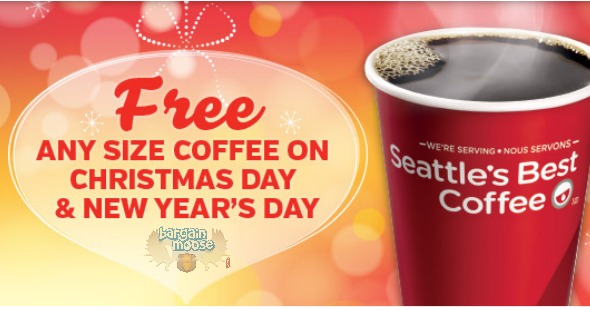 This Christmas, if you find yourself out and about, you might want to find yourself at a Mac's Store. All day today and New Year's Day, Mac's Stores will be offering free coffee - in any size.
Mac's Stores serve "Seattle's Best Coffee" and to say thanks for being the best customers on the planet, your local Mac's will provide you with a free cup of coffee today and New Year's Day. You will be limited to only one cup of coffee, but you can choose any size you desire.
Mac's has been exclusively brewing Seattle's Best Coffee in Ontario for more than 14 years. There has to be a good reason that they have held this relationship for so long, so why not try it out. I for one need my morning coffee. If you are planning to do a long drive to visit family today, you might need it as well. I am sure everyone was up late last night wrapping and organizing gifts.
Some of the other offers available at Mac's to make your visit even more worthwhile:
2 for $4 Coca Cola and soft drinks
2 for $4 Gatorade & G2
2 for $9.99 Haagen Dazs 500ml assorted flavours
Nutella & Go $1.49 with the purchase of any hot drink
Breakfast Sandwich & Monster Energy Drink $3.99
If you do not get a chance to get a free coffee from Mac's today, try again on New Year's Day. No purchase is required.
(Expiry: 25th December 11:59 PM)