Free Coffee @ McDonald's is Back!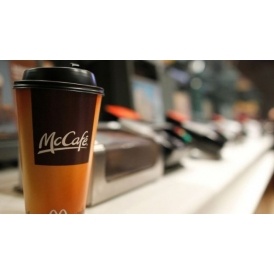 Woohoo! Moosers - the McDonald's Free Coffee promotion is back, and it starts today, February 29th. I just called and confirmed that this promotion is in fact coming, and I am so excited. You can head into any McDonalds to get a free small cup of McCafe premium roast coffee. You can even use their Coffee Gram to send the promotion to your friends and family so nobody misses out.
I never complain about free coffee. Honestly, I am a big grumpy bear if I don't get my morning cup-o-joe. I am a happy bear if I get my coffee for free though, which is why I am looking forward to this upcoming promotion from McDonald's Canada. Actually, I haven't won anything from the Tim Hortons Roll Up The Rim yet, so this might make me feel a bit better.
Every so often McDonald's has a week long promo where you can stop in and get a free small coffee. This time the promo runs from February 29th through March 6th. You don't even need to purchase anything else! You are limited to one coffee per person, per visit though.
If you regularly hit up your local McDonald's and are looking for other promotions to tide you over until this free coffee promo starts, then maybe you can stop "sleep-working" and actually get a great breakfast at a great cost. I regularly check the McDonald's app for coupons and discounts. Normally you could upgrade to a medium for 50 cents, but this time around you will have to pay 75 cents to upgrade to a medium coffee and 90 cents to upgrade to a large coffee. But, I would just stick with the small freebie to be honest!
Plus, McDonald's has that sticker system, so once you get 7 stickers you get a free medium hot beverage of your choice. Luckily enough, even the free coffees come with a sticker to add to your collection.
(Expiry: 6th March 2016)