Free 2016 Milk Calendar & Recipes @ Dairy Goodness Canada!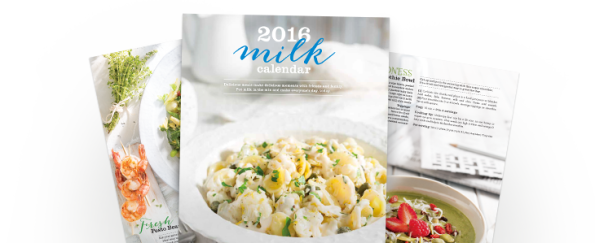 I know all of the devices nowadays have their own little virtual calendar, but nothing beats having everything physically written down on paper. Right now you can order a free 2016 Milk Calendar from Dairy Goodness Canada.
You will never forget a birthday or holiday again. For a limited time, you can request a free 2016 Milk Calendar from Dairy Goodness Canada. It is very possible that quantities will be limited, so it would be in your best interest to snag your free 2016 Milk calendar now. Your free calendar will take up to 8 weeks to deliver, but that just means it will be here a little late - still can't complain about a freebie like this. The ordering is available for all provinces at this time, but last year a few provinces were out of stock earlier than others. Don't wait long is my suggestion.
The Dairy Goodness 2016 Calendar will be stocked full of delicious recipes for you and your family to enjoy all year long. Not only will the recipes be delicious, but you can also expect them to be nutritious too. Last year I ordered a few free calendars, including the Telus Calendar and the Dairy Goodness Calendar. I did not receive the Telus Calendar at all, but my Dairy Goodness calendar still hangs strong in my kitchen!
This month's featured recipe is Comforting Chicken Tamale Pie. I have yet to try it, but I might just dedicate this one for my mom to test out. There are also many other interesting recipes like Mac 'n Cheese Muffins. These muffins would be fabulous for a quick on-the-go snack for kids. The Summer Smoothies look refreshing and I might actually try that recipe right now. You can also find the recipes here if you are not interested in the free calendar.
(Expiry: Unknown)