Clearly Contacts: Free Glasses For Ontario Residents (March 1)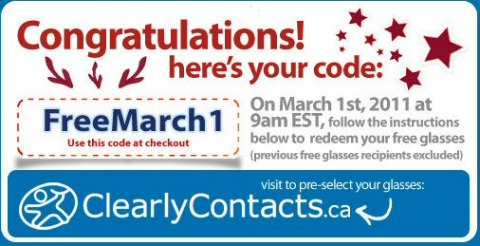 If you live in Ontario, take advantage of Clearly Contacts free glasses giveaway on 1 March 2011. There are 10,000 pairs of glasses up for grabs for first time registrants that live in Ontario only. Be ready with your order at 9 am EST!
On 1 March, click here to order your free glasses from Clearly Contacts
Discount: Free glasses!
Coupon Code: FreeMarch1
Expires: 1 March 2011 while supplies last
Since these freebies go quickly, prepare by picking out your glasses ahead of time.