Canadian Freebies: iTunes 12 Days of Gifts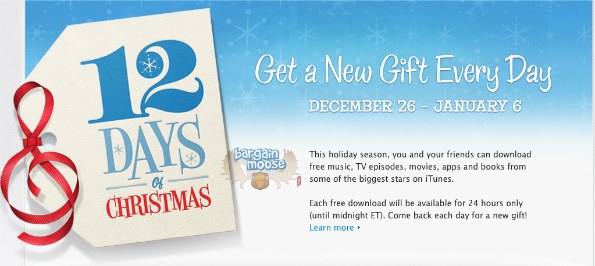 iTunes is offering 12 days of gifts... freebies in the form of music, TV shows and more. The first day was the 26th, and today is the second day. You won't want to miss out on this feature.
Just follow the link above and select your 'local-ish' (or random) newspaper to access the freebies.
Todays freebies are 5 pilot episodes:
Almost Heroes, Season 1, Terry and Peter vs. Episode One
Haven, Season 1, Welcome to Haven
Hell On Wheels, Season 1, Pilot
Rookie Blue, Season 1, Fresh Paint
Sanctuary, Season 1, Sanctuary for All, Pt. 1
Each freebie is available to download for 24 hours only.
Thank you to Mooser Kolagirl for posting this deal on the community forums. At 264 degrees... it's hot!
Expiry: 6th, January 2012