Canadian Freebie: Free Comics for 14 Days @ Humble Bundle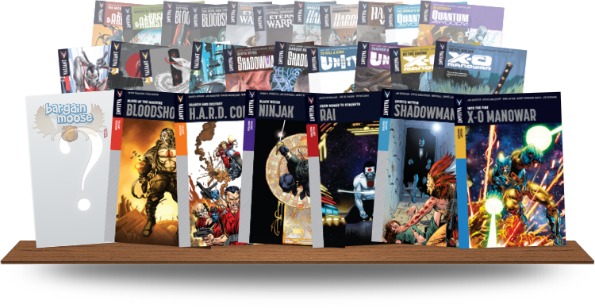 Here is another sweet little freebie from Humble Bundle. While the Valiant Comic Book Bundle is on at Humble Bundle, they will be offering a different free issue from the Valiant Comics library. Each day the new comic will appear at 11am PDT. Today's free comic is Eternal Warrior #1.
Just scroll to the bottom of the page to request your free comic book. The only thing it requires is an email address and a Humble Bundle account.
Now, redemption is a little more complicated than your standard Steam game. You can choose from several different redemption methods:
Look the comics into your Google Play Books library
Send the comics to your Kindle or Kindle reader
Download the 'hard-file' and get instructions on how to put it on your Android, iOS, ETC.
I went to the page where I needed to choose the format I wanted to download - and to my surprise, I found not just one but two free comics waiting for me.

I am not sure how that happened, but I hope it happens to all of you! As you can see, I am also getting a free copy of X-O Manowar #1. I believe that is yesterday's free comic as this Bundle was just released then. Though these are not my type of comics, so I will not be finishing the downloads, these are fantastic freebies for anyone into comics that wants to expand their horizons. Each day you can get a new free comic and that should continue for 12 more days! In total, you should be able to score 14 free comics from this offer.
I also suggest you consider buying the Humble Valiant Bundle if you like what you read. It is over $420 worth of comics and a good portion of they are pay what you want. A portion of the proceeds goes to charity and you get a whole lot of great new comics to read.
(Expiry: 11AM PST each day for 12 more days approximately)