Canadian Freebie: Finish Power & Free Sample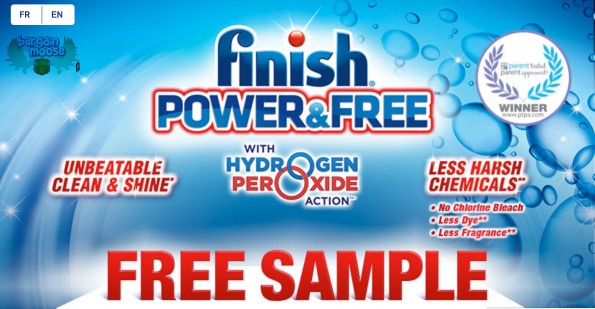 Finish Canada is offering a great free sample of their Power & Free Dishwashing Detergent. These freebies from big companies always go VERY quickly, so make sure you to take advantage of this offer as soon as possible!
I love trying new products for free. It's so nice to be able to test something out before committing to buying a box, then only to find out that you don't like the product. Finish's new Power & Free boasts unbeatable clean and shine, less harsh chemicals, fragrances and dyes. This detergent also contains hydrogen peroxide action, so your dishes should come out sparkling and shiny.
To sign up for this freebie, all you have to do is click on the above link, which will take you to the Finish Canada Facebook page. Simply fill out your name, contact details and a few other short questions, and then click on Submit.
Check your mailbox in four to six weeks!
Make sure to keep your eye on all of the latest free samples by visiting our Freebies Forum. A special thank you to jkimchi for sharing this fantastic freebie!
(Expiry: While Supplies Last)