Active Baby Canada Freebie: Free Carrycot ($190 Value) With Purchase Of Mountain Buggy Duet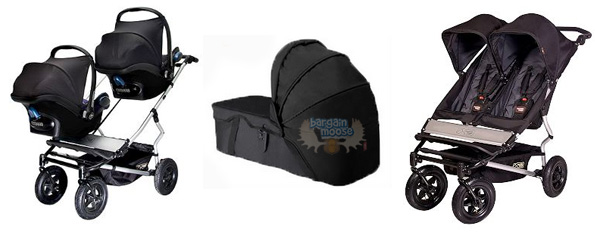 Shopping for twins or perhaps the arrival of another baby when you already have a little one? Then check out the Mountain Buggy Duet stroller at Active Baby because for a limited time, you will also get a free carrycot ($189.99 value) with its purchase!
If I ever have another kid, or should I say, when I have another one, I'll definitely be getting the Mountain Buggy Duet stroller and I can only hope that this promotion will be on then as well. This amazing stroller is the same width as a single stroller (meaning, you won't have to worry about fitting it through the doorway of your favourite coffee shop) and the best part about it is its extreme versatility as it can hold two car seats, to two upright positions or even an upright position alongside a car seat! Plus, it can hold a total weight of up to 79 pounds. Out of plenty of positive reviews, here's what one reviewer had to say on Amazon:
I reviewed double strollers for almost a year. I am a baby gear nut and I try to get the best of the best for my girls. I do countless hours of research to make sure I make the best purchases. When looking for a double stroller, it was no different. I read hundreds of reviews, test drove dozens of strollers, watched endless videos. Finally, I decided on the Mountain Buggy Duet.
On Active Baby, the stroller is $649.99 and although the cheapest price across the board can be found for it on Amazon.ca, where it's on sale for $615, the freebie definitely makes it worthwhile, because:
Active Baby: $649.99 for stroller and carrycot
Amazon: $615 for stroller + $175 for carrycot = $790
The carrycot is essentially a bassinet that can be used on the go, but even if you don't see yourself being out and about all that much, then it can still come in handy for BBQ parties, family get togethers, trips to the park etc.
I was a little iffy as to whether the 'free shipping over $250' policy would apply to this stroller and carrycot and yet, I was pleasantly surprised to discover that yes, it doesn't indeed extend to it as well! If you're worried about the safe arrival of your order, then you can pay an optional insurance charge of $6 ($1 per every $100 spent) just in case.
(Expiry: 13th June 2014)