Winter Secret Sale—Up to 80% Off and Free Shipping @ eCarpetGallery.com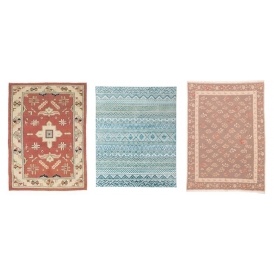 As an occasional interior decorator, my very favourite place to shop for a wide variety of good quality, affordable handmade area rugs and carpets is eCarpetGallery.com. Compared to shopping for similar quality products in stores, their selection and prices are already pretty great and right now they are having Winter Secret Sale (Part 2—I'm bummed I missed out on Part 1!).
Spring cleaning seasons is here people! A great time to swap out hall runners that have been trampled by one too many winter boots. Or finally tackle the update to that room that's been collecting dust for a little too long. It can be a little scary to order such a big item online, sight unseen, but in my experience the rugs are very close to how they appear online and should you need to return something, customer service is impeccable.
Hurry! This is a secret sale, so no info on when it will end! The code will work on all full priced items, and on sale items provided the coupon discount is higher than the posted sale. Almost all the rugs that I tested out in my cart got the full 80% discount. Shipping is always free.
Do you have a room in your house that could use a spiffing up for spring?