WEN Canada Haircare: Regular Supply Only $29.95 + Free Travel Kit & Free Shipping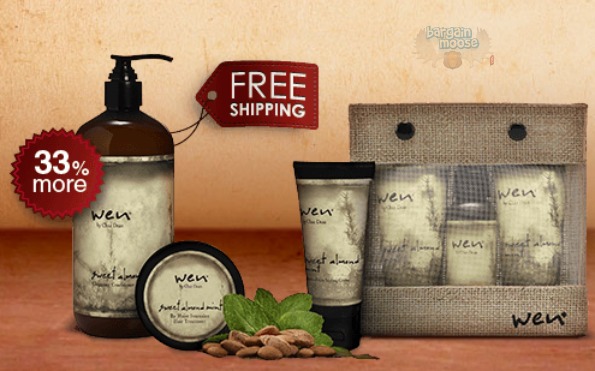 If you are looking to switch up your hair care routine to something that is really great, you may want to take a look at WEN products.  They have a pretty spectacular deal happening right now that will get you a lot of products for just a little bit of money. Buy a regular supply of WEN for just $29.95 and you will get free shipping and free gifts included for a limited time only.
If you have yet to try WEN products, now is the perfect opportunity to test the waters and see what you think.  Not only will you get free shipping with your supply, you will also get free gifts making the value very good right now.
Here is a look at what you will get with this deal:
Cleansing conditioner
Anti-frizz styling creme
Free three piece travel kit
Free shipping
The three piece travel kit is valued at $25, which is almost the cost of the regular supply.  Getting it for free and free shipping to boot is a pretty awesome deal!
If you would like even more, you can upgrade to get 33% more for just $39.95 and still get the free shipping and the free travel kit as well. If this is your first time using WEN however, I suggest you stick with the smaller size to explore whether you really like it and see the difference.
They don't have any testimonials on their website that I could find, but they do have a lot of before and after examples. You can check out actual before and after examples and see what those people have to say about using WEN.
Just remember that this is an auto-renewal subscription to WEN, but you can cancel it at any time. Make a note in your day-timer if you want to cancel it within the 30 days. I look at this as a blessing, really. If you are using a product that you really like and will want and need to use it every month anyway, this saves you the time of having to get it each month!  It is far less hassle.
Additionally, they offer a 60-day money back guarantee, where they will fully refund you even if you ship the bottles empty. As long as you ship back within the 60 days of your receipt you will get fully refunded. This means to me that they really stand behind their products.
(Expiry: Limited Time Offer)