Walmart: Playgo Toy Wagon Set Was $50 | Now $30 & Free Shipping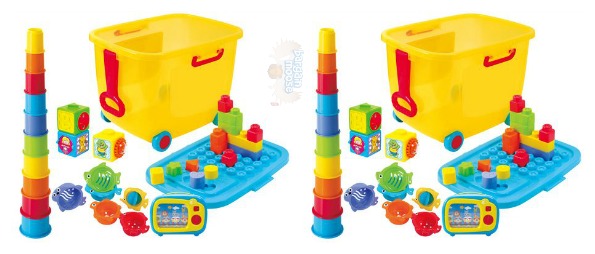 Walmart Canada has a sweet little deal on the 34-piece Toy Wagon Set by Playgo (Kid Connection). Originally $50, this wagon and included toys is on sale for $30 with free shipping.
I could only find this toy set (in Canada) at Sears.ca, where it currently retails for $49.99 plus shipping. At Walmart, you save the shipping charges and get $20 off that price.  There are 34 pieces in the set. Rather than throwing them in your child's regular toy box, they all will store inside the toy wagon. Your child can then use the toy wagon to transport these toys (and other toys) from room to room. I like the toy wagon because it makes cleanup before bed simple. Just have your child pick up all their toys and put them in the wagon. Then they can pull the wagon to their room and put the toys away.
The full set includes:
9 chunky blocks
3-piece multi-activity action blocks
10 stacking and nesting cups
6-piece nesting and stacking water or bath toys
1 wind-up musical TV
5-piece shape sorters
1 wagon and locking lid
The lid can be used with some of the blocks and shapes. Stick the blocks onto the nubs on the lid to give your building a solid foundation. all the pieces are made of plastic.
The set is designed for children ages 18 months and up. Depending on your child's progress, this might be appropriate for slightly younger children. The yellow wagon has a red handle so children can drag it all over the place.
I cannot think of a better set of versatile toys for $30. At this price, you are paying less than $1 per toy (34-toy set). I also think this set makes an excellent gift for a baby shower - especially for first time mothers. While the toys cannot be used immediately, they will appreciate them within a couple years.
Despite the size of the wagon filled with toys, you still receive free shipping from Walmart Canada. That is one of my favourite things about Walmart deals - you never have to worry about extra charges for shipping.
(Expiry: unknown)