Walmart Canada: Monster High Color Me Creepy Design Chamber was $50, now only $20!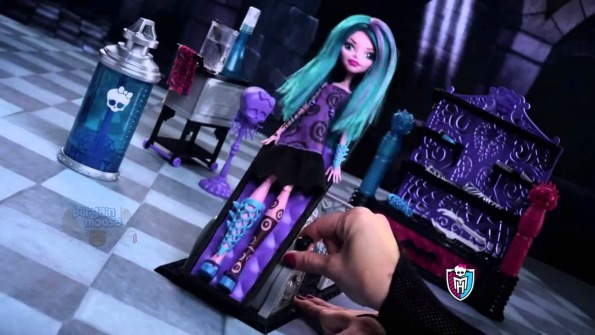 *** BUMP - there has been a further $10 price drop since we first posted this item!! ***
The Monster High Create A Monster Color Me Creepy Design Chamber is on sale from $54.94 down to $30 only $20 at Walmart Canada!
This toy is sold-out at most retailers in Canada, so price comparing was hard. I found an old cached page for Sears Canada when they had the set on sale for $37.94 (plus shipping). However, the Colour Me Creepy set is no longer on their website. I also found the set at Amazon Canada for $56.53 with free shipping. The set is sold by a secondary merchant but fulfilled by Amazon. I also looked on eBay, but including shipping you would pay over $50 even for the cheapest set.
The Color Me Creepy Design Chamber is like Frankenstein's lab. It gives you all the products you need to colour your doll's hair, skin, and more. The set comes with the chamber, chamber chair, heat tool, ice tool, spritzer, detailing sponge, colour-change wig, colour-change fashion, pair of shoes, extra body parts to mix and match, additional monster pieces for more detail, a colour-change tumbler, and a colour-change beaker.
You get so many things for only $20, I cannot think of a better purchase if you are into Monster High Dolls. While some reviewers think that the 'change' is not great enough, the colour changing relies on temperature so you need to make sure you are not just using lukewarm water. As this reviewer says:
What more could you ask for. You get a doll, that you can customize, and a lab with realistic doll size props to do it in. My 9-year-old granddaughter, like so many other tweens, is really in love with the Monster High collection dolls. She adores it all, but a kit like this is especially fun as it allows so much more interaction. This uses the hot and cold system to bring about changes. Thus it teaches a very good lessons on equal and opposite reactions and the difference between cold and hot. Learning can be so much fun.
One of the pieces, the heat tool, requires two AA batteries, which are not included. I am sure your child will steal those out of your TV remote control if you forget to buy a set ;)
Remember, you can order this online and collect it for free at your local Canada Post. If you don't want to do that, maybe spend $50 at Walmart and get free shipping to your home.
I found a fun review of this toy on Youtube that you might want to watch to see how everything works. I think it covers all the basics and you get a sense of how large this set really is.
(Expiry: Unknown)