Walmart Canada: Supergate III On Rollback For Just $20 & Free Shipping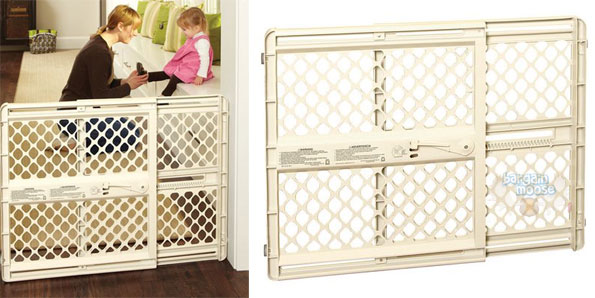 Got a baby, kids or maybe even a dog? Then you need a gate! The Supergate III is currently on rollback at Walmart and can be yours for just $19.88 instead of its usual price of $29.94 -- that's 34% off!
Going, going, gone! That's exactly how I feel now that my baby is crawling all over the place and cries as soon as I try to keep her entertained within a superyard in the living room. Having her crawling around is definitely great in of itself but sectioning certain areas would help to make my life as a mommy much easier but since I don't exactly want to shell out loads of money on gates and baby products in general, getting them on rollback is the best way!
The Supergate III is a gate produced by North States in a vanilla colour. It can easily fit openings from 25.5"-42" wide and is 26" high.
As for a price comparison, I found this same gate at 2 others stores:
Reviews are largely mixed for it as well. Users either totally love it or totally hate it, so the fact that it's currently on rollback is definitely a huge advantage, especially if you don't have the biggest of budgets to spend on a gate. Here's what a reviewer on Walmart had to say about it:
I bought the Supergate III and I am happy with it.
And here's another review.
If you are trying to mount it- watch the YouTube video. Instructions are a little confusing. I put this gate up last night and its kinda hard for me to open let alone my kids (its for the dog). It only closes if its in a groove properly which is quite frustrating because my proper length is right in between. Good enough for the price but like others have said..spend the extra money if you can...
The YouTube video in question is the North States Supergate Classic, which clearly demonstrates how to install it.
If you don't have a car or are just feeling lazy because of the cold and snow outside, then you will be happy that this gate will also be shipped absolutely free. That is a major advantage as getting large items can be a pain sometimes, even with a car.