Walmart Canada: NerfN-Strike Strongarm - Just $20 (+ Free Shipping)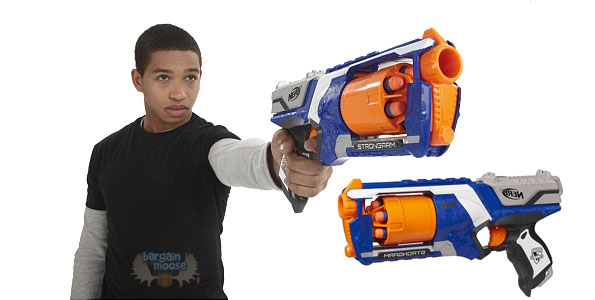 Get your kids off the couch and playing outside with a 2-pack NerfN-Strike Strongarm, which is just $19.92 at Walmart right now.
Let me be the first to mention that this nerf gun pack isn't on sale at Walmart but compared to products offered by competitor stores, it is an awesome deal. Both Toys R Us and Amazon are selling each nerf gun individually for close to $20: while Amazon has it for $19.99 with no added shipping fees, Toys R Us has it for $17.99 and with $8.48 in shipping fees (unless you reach the $25 free shipping minimum by buying something else).
At Walmart, however, you get two nerf guns for just $19.92 ($9.96 each) and with absolutely free shipping, which compared to competitors, is basically a two-for-one kind of deal! Surprisingly, I even found a pack of just one of these nerf guns for $14.42 at Walmart.
These bad boys specialise in rapid fire action, firing six darts when the Slam Fire slide is pumped repeatedly with the trigger held down. Amazingly, these guns can launch Elite Darts up to 75 feet away and the barrel automatically flips open when the time comes to reload to save on time.
You could either get it for each player to have one, or you can take it a step further by equipping each player with two guns to either use simultaneously or with one as a back-up. Plus, you could organize a mega nerf gun battle for the whole family and award prizes in the form of ice cream. :D
To be honest, I have always thought that nerf guns are for some light fun outside but by this descriptive review of this model, it looks like some people take it very seriously:
The Strongarm is quite possibly the perfect nerf sidearm/main/secondary. Its range is fantastic with minty fresh Elite darts. Somewhere around 55 to 65'. Reloading is fairly quick and you CAN pull off the flick of the wrist cylinder slam. Accuracy IS based on dart condition, like most nerf blasters. The tactical rail is there for those that like to accessorize.
Plus according to a different review, you could also use wirecutters to remove the barrel air restrictor/ peg to then be able to use any darts. This, however, might not change anything with regards to accuracy and distance, but it could still be useful if you have plenty of darts at home from other nerf guns.
(Expiry: Unknown)