Walmart Canada: MobiGo Cartridges Were $24 | Now $10 & Free Shipping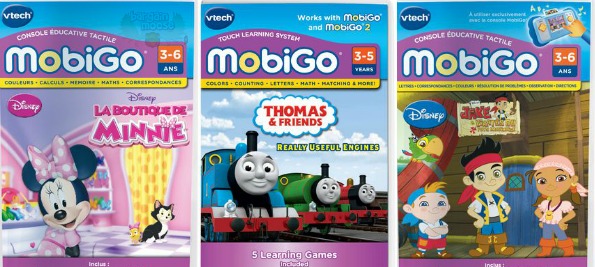 From what we hear, today is the last day of free shipping with no minimum at Walmart Canada. I was checking out the toy section because toys are the only thing I have bought at Walmart Canada in 10 years. I ran across a selection of Vtech MobiGo software for MobiGo and MobiGo 2 systems. Originally these games were $23.74, but they are now on sale for $10 each.
The Mobigo Software: Thomas the Tank Engine- English Version is only $10 right now, which makes it a good deal and an excellent way to expand your child's software collection. The software includes four learning games. In addition, there is a bonus activity once you complete, allows you to unlock new engines to play with in the four learning games. The game also has the voices of all your child's favourite characters including Thomas, Sir Topham Hatt, and more.
The other three games priced at $10 are in French. You can pick up Cars 2 - MobiGo Touch Learning System, Mobigo 2 Software- Jake and the Neverland, and Mobigo Software:Disney Minnie Mouse all in the French versions. This is a great way to promote bilingual learning and help your child get a head start on their French. These are also fantastic if you live in some of the French speaker areas in Canada. I took two courses in university French last year. Unfortunately, I am losing it without practice. I think games like this are a great way to maintain a second language and help it further develop.
Now, if your budget can stretch a little farther, then there are many great Mobigo games on sale from $23.74 down to $15. Disney Tangled Mobigo Software starts the endearing princess, her frog, and the notorious Flynn Rider. The Disney Brave-Mobigo 2 Software- French Version is probably my top pick of the $15 games. I love this fierce little redhead girl.
In English, you can score Mobigo Software- Disney Sofia the First. Sofia the First is popular among young girls and I am sure young fans would love to play a game based on their favourite princess. The Mobigo Software- Bubble Guppies is also in available in English. I watched a bit of this show while waiting for my blood to be taken at a clinic. It was far more interesting than the baseball game on the 'adult' television.
These cartridges are all out of stock at the four closest Walmart's to me. I highly recommend picking them up online. All cartridges are compatible with the MobiGo and the MobiGo 2.
(Free Shipping expiry: 1st April 2015)