Walmart Canada: Lock & Lock 18-Piece Set Only $14 (Was $20) & Free Shipping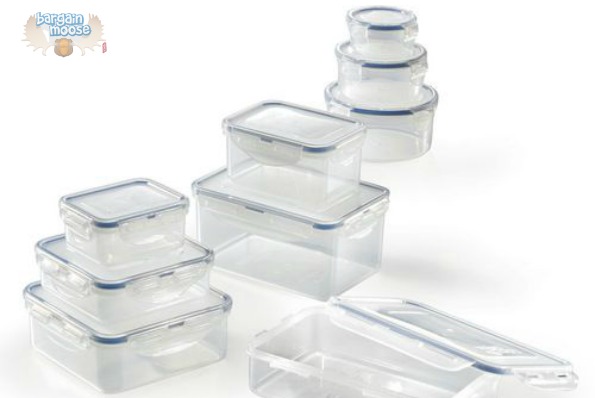 Walmart has the Lock & Lock 18-piece set on rollback for only $13.88, with a regular price of $19.93. That is a savings of over $6 on this very useful set, along with free shipping.
I've actually never bought the Lock & Lock sets but I've heard raves over them. They are great for travelling with food, for school lunches or for work. They are 100% air and liquid tight so you won't get to your destination realizing that everything has spilled. I really haven't seen many containers like this, as with washing in the dishwasher, the lids warp (if you can find the lids, that is). These lids literally lock on to the sides of the containers to keep everything in. What's also great is that they are easier than some containers to open for little hands. If you have little ones entering kindergarten next year, these are perfect. I'm going to assume this deal won't be on at the end of August when you are scrambling to find containers for litterless lunches, so you might as well get prepared now, before school is even over!
I think that these lids would also be easier to keep track of, as you'd probably put them away with the container.
There is one review, which gives the Lock & Lock containers five stars, so you don't have to take my second-hand word for how good these containers are.
The Lock & lock containers are well made and very useful for storing and reheating leftovers. Also useful for transporting food from home to place of work.
Like pretty much everything they sell, Walmart will ship this to you for free. If you want to check out other stores that ship for free, don't forget to take a peek at our Free Shipping, No Minimum page.
(Expiry: Unknown)