Walmart Canada Boxing Day Flyers Out Now! (Dec. 26-31 2014)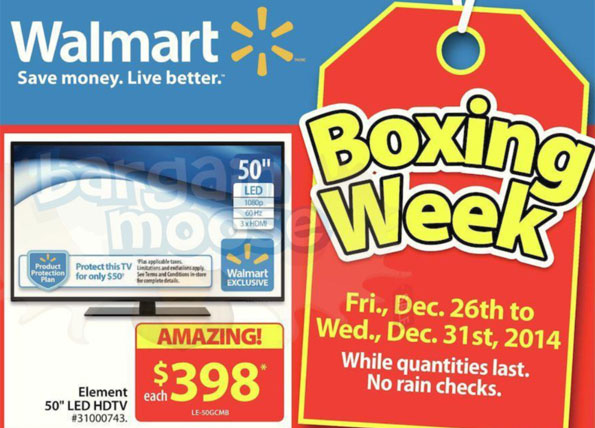 Get ready to write down everything you're going to buy on Boxing Day because Walmart has just released their 2014 Boxing Day flyer and the deals are definitely worth take advantage of on the first day of the sale! It starts December 26th 2014.
Here are just some of the deals that can score during Walmart's Boxing Week but there are plenty more:
As usual, you will also be able to score a $50 iTunes gift card for jut $45 but this one's in-stores only. Another deal you can only get in-stores is an iPhone 6 16GB with a 2-year plan at Telus for $99 or an iPhone 5s 16GB for $0.
We also know that you will be able to save on the following clearance items:
Up to 60% off select all-season or winter tires
Up to 50% of Christmas decorations, lights, wrapping & holiday clothes
Up to 50% off holiday-boxed jewellery and gifts
Up to 50% off wooden jewellery boxes
Up to 40% off select power tools hand
Up to 25% off electronics (incl. laptops, cameras & demos)
Swivel bar stools: reg. $45.97/ now $25
3-tier bookcase: reg. $38/ now $19
Select kids' or ladies' knit tops: just $3
It's no surprise that holiday-related merchandise is going on clearance. In fact, this is the best opportunity to score some wrapping paper, decorations or anything else holiday-related at a fraction of the price. I bought all of my wrapping paper and bows on clearance at Walmart last year and I'm happy to say that this year, I won't be needing to buy anything at full price! :)
Don't forget that Walmart also offers absolutely free shipping, so you will be able to score a lot of these deals from the comfort of your own home, just as long as you shop when the clock strikes midnight.
Below you will find the first couple of pages of the Walmart 2014 Boxing Day flyer. Make sure to check out the full flyer here.
[gallery columns="4" link="file" ids="200756,200757,200758,200759"]
(Expiry: 31st December 2014)